AmeriSpec Owner Awarded for Outstanding Revenue Growth
|
March 25, 2014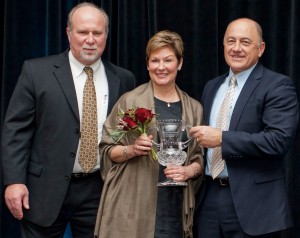 Cheryl Myers was recently recognized at the AmeriSpec® Home Inspection Service national convention in Austin, TX for her franchise's stellar revenue growth in 2013; surpassing $1 million in revenue.
Myers and her business partner, Lisa Roddis have owned their Delaware-based home inspection franchise since 2005. With steady growth, the business team now has a total of six home inspectors and serves Delaware and Maryland's Eastern shore. What's the key to Myers's success? She said, "It's all about building relationships with the agents, doing a good job with the inspections, and good customer service." As a daughter of a real estate broker, her exposure to the industry has served her well.
Vice president and general manager of AmeriSpec®, Kathy Thiessen, praised the women by saying "It was an honor to present these hardworking and innovative owners with well-deserved recognition in front of their peers," said Thiessen. "Their success as business owners reflects their commitment to providing customers with the highest-quality home inspections, customer service and attention to detail. We are proud of their accomplishments and look forward to the knowledge and successes they will share with the home inspection industry, home inspectors and customers."
About AmeriSpec
AmeriSpec® has 187 independently owned and operated franchises and licensees located throughout the United States and Canada. The Memphis-based company has been in operation since 1987 and has performed more than 1.5 million quality home inspections. AmeriSpec is a business unit of The ServiceMaster Company, LLC, one of the world's largest residential and commercial service networks. The company's brands include Terminix®, American Home Shield®, ServiceMaster Clean®, Merry Maids®, Furniture Medic® and AmeriSpec®.
For more information on companies in the home service franchise industry, click here.