April Showers, Floods and Awards
|
April 22, 2014
April may bring showers, but it also brings floods that cause natural disasters. When a residential or commercial property owner faces a catastrophe caused by fire, water, mold, storms, or other forms of property damage, Paul Davis Emergency Services can quickly and professionally respond to restore calm to a chaotic situation.
Annual Convention
To honor those in the industry, Paul Davis held their national convention this month and celebrated Dan Druml and Meg Boyle, the owners of Paul Davis Restoration & Remodeling of Southeast and Fox Valley Wisconsin, with the Franchise of the Year award. The couple and their staff were also recognized for producing the top sales volume out of 300 other offices in the Paul Davis network.
Whether responding to a natural disaster affecting the community or helping a property owner through the aftermath of flooding or a house fire, Paul Davis franchisees are committed to their customers above all else. This business is built on relationships with insurance adjusters and policyholders – and that service is always in demand.
Druml said "Our team members understand the business and have in-depth industry knowledge along with supporting relationships that are important to our customers."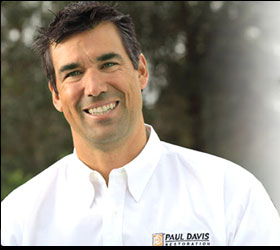 Paul Davis Restoration
Paul Davis Restoration & Remodeling of Southeast Wisconsin was established more than 23 years ago, and the company continues to receive numerous design and construction industry awards along with implementing community service initiatives through the company's charitable giving foundation.
The local company is a franchise office of Paul Davis Restoration Inc., a leader in residential and commercial loss mitigation, reconstruction, and restoration services nationwide. The Paul Davis Companies is a national network of full service water, fire and mold cleanup and restoration services.
Click here to learn more about owning one or both of the two franchise concepts the Paul Davis companies offer.