|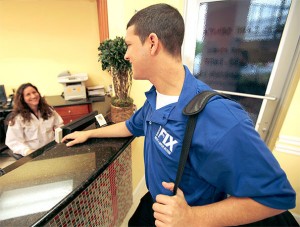 Talk about going above and beyond . . . Chris Moore, a British Columbia native, a new Dental Fix franchise owner and now, a hero.
Last week Chris saved a boy who was screaming and trapped in an overturned vehicle after the driver lost control of the car on Vancouver Island, Canada. The car clipped a logging truck and flipped into a ditch off the northbound lane of the Trans-Canada Highway.
Despite the danger of the leaking gas coming from car, Chris and another Good Samaritan rescued the toddler from his car seat and returned him safely to his mother. Chris was driving to visit a Dental Fix Rx client when he saw the car in the ditch.
As a result, Moore received Dental Fix's Above and Beyond Award for his heroic act.
"We could not be more proud of Chris for his selfless act," said David Lopez, CEO, Dental Fix. "He truly embodies our company values. He is not only driven and righteous but also caring. He certainly performs above and beyond. We are delighted to recognize him with this special award."
Dental Fix Rx is one of the few franchises out there which guarantees your success. It guarantees you'll get a certain number of customers during your first year of business, or they'll refund your franchise fee. You can read more about that in their Franchise Disclosure Document when you inquire about the business here.
Dental Fix Rx provides valuable services to dental professionals everywhere such as on-site equipment repair, preventative maintenance, supplies and equipment sales and emergency service. Dental Fix RX is one of the fastest growing mobile service franchises in the U.S. and has more than 100 franchises worldwide.
People from all walks of life are becoming Dental Fix Rx owners. They work 40-50 hrs./week and have weekends and holidays off.
To read more about the benefits, training and support provided to Dental Fix Rx owners, click here.
To watch a video about becoming a Dental Fix franchise owner, click here.