Who's Opening 7 Locations in 7 Days? Dickey's
|
April 8, 2014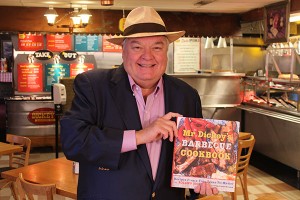 Their barbecue may be slow smoked, but Dickey's is spreading across the country fast. Dickey's Barbecue Pit, a food franchise that started franchising in 1994 in Dallas, Texas, is opening seven new locations all in one week.
See if one is popping up near you, and break out your bibs and napkins for some finger-licking fun and a chance to explore a potential business opportunity. You'll see new locations opening in:
Kent, Washington
Richland, Mississippi
Vienna, Virginia
Colorado Springs, Colorado
Clinton Township, Michigan
Yonkers, New York
Dallas, Texas
President and CEO of Dickey's Barbecue Restaurants, Inc., Roland Dickey, Jr. says "The excitement surrounding our brand is picking up speed around the country."
Dickey's has added more than 200 stores in just two years, and it's evident by this surge of openings that "Fast casual Texas barbecue is a unique value proposition that both guests and franchise owners have embraced," explains Dickey, Jr. Currently, Dickey's has 391 units open and has more than 150 stores in development.
At each grand opening, Dickey's Barbecue Pit hosts a three-day celebration with multiple gift card giveaways, free merchandise and $2 Pulled Pork Big Barbecue Sandwiches.  Each location will also be drawing for a chance to win a $500 gift card.
If you have a love of barbecue, working with the public and becoming part of a family legacy, think about owning your own Dickey's Barbecue Pit. Start by reading up on the benefits and opportunity Dickey's provides.