Planet Beach is Changing with the Tides, I mean Times
|
April 15, 2014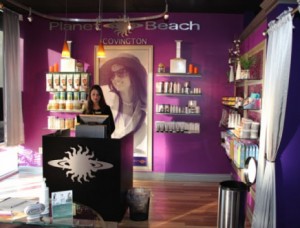 Twenty years ago, Planet Beach was a twinkle in Stephen Smith's eye when he passed by a neon sign for a New Orleans tanning salon. He started his own, and called it Electric Beach with plans to franchise it.
This was a natural progression and perfect addition to his Gold's Gym businesses, as Smith has been involved in the wellness and fitness industry since he was 18. His goal with Planet Beach was to help people achieve a sense of rested well-being that only comes from a day at the beach. "I felt that this name represented a place that people would desire to escape to and have an 'otherworldly' and relaxing experience," Smith said.
Smith has ensured Planet Beach has changed with the market demands. As the desire for tanning services has diminished, spa services have increased. Now, the franchise has evolved into a unique twist on the traditional day spa. Customers pay a monthly membership fee for unlimited, fully automated, push button spa services which are now known as the Planet Beach Automated Spa.
The growth in the health and wellness industry is phenomenal and continues to boom, expecting to reach a trillion dollars in 2017. If you or someone you know has an interest in joining this rewarding and exploding industry, click here.
Click here to learn more about owning a Planet Beach franchise including the benefits, qualifications, investment required and the training and support that Planet Beach offers.
About Planet Beach:
Planet Beach, based in New Orleans, La., is the leader in self-automated spa services and creator of the automated spa concept. The international franchise is dedicated to changing the way the world rejuvenates by providing affordable and high quality skincare and spa treatments. This membership-based spa franchise was founded in 1996 and has grown to more than 250 locations worldwide. Planet Beach has competitively ranked on Entrepreneur magazine's 'Fastest Growing Franchise' list and is consistently recognized as a top franchise company. For more information on owning a Planet Beach franchise, click here.
Compare Planet Beach against other beauty salon, massage therapy and spa franchises here.