The Capriotti's Franchise is Givin' It Away
|
May 13, 2014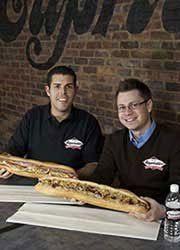 Franchise Solutions' client, Capriotti's Sandwich Shop, is opening their newest location in Mansfield, MA, and to celebrate they are giving food and drinks away all week long. If you hurry and make it to the Mansfield location as one of the first 100 customers, you will be awarded with:
Tuesday – $5 coupon affectionately called CAPS cash which can be redeemed on any Capriotti's purchase
Wednesday – You don't have to be one of the first 100 customers to receive this bonus, but you do have to be on time. Stop in anytime between 3 pm-5 pm and get the shops famous Bobbie sandwich, voted the Greatest Sandwich in America by AOL visitors, for only $1. If you haven't had a "Bobbie," it's like Thanksgiving in a sub; made with slow roasted turkey, homemade stuffing, cranberry sauce and mayo.
Thursday – FREE COOKIES
Friday – FREE DRINKS
What makes Capriotti's stand out from other sandwich and sub shops?
They roast 10-12 whole fresh turkeys a night to make sandwiches to order every day. The Mansfield location will also provide catering services and vegetarian options. Is your mouth watering yet? Tap here to view the shop's menu.
The shop's CEO, Ashley Morris, says "the other two Capriotti's in Massachusetts already have a loyal following, and we know the Mansfield location will be no different." With more than 100 locations in 14 states and federal districts, Capriotti's is rapidly furthering its reach across the United States and is proud to continue to grow its presence on the East Coast.
Capriotti's in Mansfield is located at 321 School St. Mansfield, MA 02048. To reach Capriotti's Mansfield, call (508) 339-0522. Hours of operation are 11 am to 8 pm daily.
For information regarding the Capriotti's franchise, please tap here.
About Capriotti's Sandwich Company
Founded in 1976, Capriotti's is an award-winning sandwich shop that remains true to their tradition of providing fresh, natural ingredients. Capriotti's unique menu items have won numerous awards including being named one of the "10 Great Places for a Surprising Sandwich" by USA Today. Capriotti's is also a recent winner of "Best of" awards in Delaware, Las Vegas, Dallas, Quad Cities, Eastern Shore and San Diego.
Tap here, if you'd like to receive free information about the benefits and training Capriotti's provides.
Want to compare other food and restaurant franchises? Tap here.