Franchise Solutions Congratulates Dickey's on 400th Location
|
May 20, 2014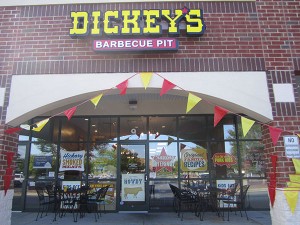 Dickey's Barbecue Pit, known for its slow smoked barbecue meats, is anything but slow when it comes to opening restaurants across the country. Another milestone has been reached – their 400th location opened last week in Phoenix, AZ, and Roland Dickey, Sr. was on site at the grand opening signing copies of his cookbook.
"The Dickey family along with franchise owners across the country appreciates the continued excitement and support from our guests," Dickey says. "Our brand continues to grow because we have so many loyal Dickey's Barbecue fans. It's humbling to meet guests across the country who make us part of their family."
Roland Dickey Jr., president and CEO of Dickey's Barbecue Restaurants Inc., says "Our team is dedicated to quality and energized for continued growth—we will be at 500 locations by the first of 2015."
About Dickey's Barbecue Restaurants
Dickey's Barbecue was founded by Travis Dickey 73 years ago with the goal of authentic slow smoked barbecue. The Dallas-based family-run barbecue franchise offers a quality selection of signature meats, home style sides, tangy barbecue sauce and free kids meals every Sunday. All meats are slow smoked onsite in each restaurant. The fast-casual family-friendly concept has expanded to over 400 locations in 40 states and holds the title of the world's largest barbecue franchise. This year Technomic named Dickey's "Fastest-growing restaurant in the country," and they were also named "Best Franchise Deal" by QSR Magazine.
Read more about owning a Dickey's Barbecue Pit here.
If you love food and people, opening a restaurant can turn your passion into profits. Check out a listing of other restaurant franchises for sale here.