Owning a Dental Fix Franchise Just Got Easier
|
May 27, 2014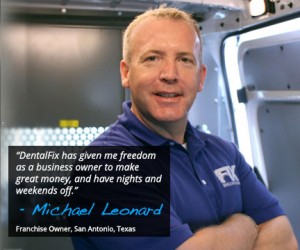 Dental Fix, one of Franchise Solutions' clients, is making it easier to own a franchise with a new financing program. The program, called the SBA Express Loan, is offered through the U.S. Small Business Association and allows potential Dental Fix owners who have good credit and $25,000 to qualify. It does this by increasing small businesses' access to working capital. Not only does the program make it easier to fund and process loans up to $150,000, but it also approves them quickly.
Making these SBA loans available provides an alternative to future franchise owners who might not be able to obtain other loans and may only have the money to cover the $25,000 initial franchise fee.
More Details about the SBA Express Loan
The SBA Express Loan program provides a 10-year term and interest rates which are based on the prime rate (as published in the Wall Street Journal) plus a 2.75 – 4.75% SBA Express maximum rate.
Dental Fix Rx, LLC is a mobile dental equipment and hand piece repair company that was founded in 2009 and is headquartered in Davie, FL. Currently, there are more than 130 Dental Fix franchises in over 90 territories.
Benefits of Owning a Dental Fix
Mobile business
No industry experience is required
40-50 hour work week with no nights and weekends and holidays off
No royalties and fixed marketing fee
Unlimited growth potential
Tap here if you'd like to learn more about the benefits of owning a Dental Fix Rx and inquire about the SBA Express Loan.