Franchise Solutions Makes Another Connection for ABS
|
July 1, 2014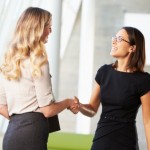 Congratulations to American Business Systems, LLC and Maureen Maher, of Forked River, NJ, on their new partnership.
Maher first visited Franchise Solutions on March 8, 2014 through the NJ state page. She inquired to 14 companies including American Business Systems, LLC (ABS) before deciding to purchase her own ABS business.
ABS is a medical billing business that has been providing training and support to licensees for more than 20 years. It has state-of-the-art, web-based electronic billing and multiple revenue streams. Two benefits of owning an ABS business are the flexibility and growth potential. You can work from anywhere and set your own schedule. You'll rest assured knowing there is a constant demand for health services; patients continue to visit doctors whether the economy is up or down.
Interested in owning an American Business Systems but don't have medical billing experience? No problem. No special degrees, education or licenses are required.
Tap here to learn more about owning a medical billing business. Complete the inquiry form at the bottom of the page, and Franchise Solutions will put you in touch with an ABS professional.
Franchise Solutions is the Internet´s leading channel for connecting qualified franchise buyers with franchisors. To see more franchise opportunities listed on Franchise Solutions, tap here.