|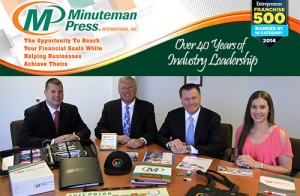 The approach Minuteman Press takes to "never say no to a customer" is serving them well. With almost 1,000 franchise locations, the system keeps growing due to its ever evolving plethora of updated services.
Take a minute to check out the services this franchise offers its customers. After reading about its remarkable recognitions, you just may want to consider owning one yourself.
Adding Current Promotional Products
To stay current, Minuteman Press has become more of a marketing service provider rather than a printing business.
Nick Titus, the company's Chief Marketing Officer and the founder's grandson, says "Many clients want their logos on pens, mugs and other promotional products – a service Minuteman has embraced, as part of the company's evolution from printing to helping customers with overall brand development."
Michael Jutt, executive vice president and director of training says, the common items such as shirts, USB "thumb" or "jump" drives, calculators, Koozies (bottle or can insulators) and candy are making room for newer items including flat LED flashlights, mints, and ear bud storage devices.
"Because of the addition of promotional products, we believe we stand a very good chance of growing our entire business over the next five years by 50 percent," Jutt says.
Online Shopping Presence
The company solidified a supplier list of five or six companies and has marketed their promotional products by incorporating them onto a "consumer" page at both the corporate website and individual store sites.
Cross Media Application Services
In addition to printing, digital printing and promotional items, Minuteman Press can provide "cross-media applications" such as building simplified websites, producing movies and posting them to video hosting sites like YouTube or designing rolling PowerPoint presentations that clients can loop on TV monitors.
Titus says the changes the digital print technology has brought about have helped Minuteman Press franchisees extensively because they can do more work with less overhead and staff.
Targeted Direct Mail Programs
Minuteman Press also works with the U.S. Postal Service's "Every Door Direct Mail" program, which allows businesses to target (or micro-target) potential customers in a given neighborhood or ZIP code with up to 5,000 pieces per day.
Award Winning Franchise
Minuteman Press International was rated the #1 Printing Franchise in the printing industry by Entrepreneur Magazine in January, 2014. Impressively, this is the 22nd time overall they have achieved this ranking.
Minuteman Press is a complete marketing service provider that has helped businesses grow for over 40 years. Their unique business model offers services and products that every business needs for their daily operation, as well as their marketing and advertising efforts.
Tap here to find out how you can become a Minuteman Press franchise owner and join hundreds of existing owners across the globe.