Franchise Solutions Cooking Up Business for Dickey's Barbecue
|
September 9, 2014
Todd Saperstein, of Beaverton, OR, first inquired to Dickey's Barbecue Restaurants on December 30, 2013 through Franchise Solutions. And now, Saperstein is celebrating the grand opening of his new restaurant with three-days of fun starting this Thursday, September 11, 2014.
Grand Opening festivities include: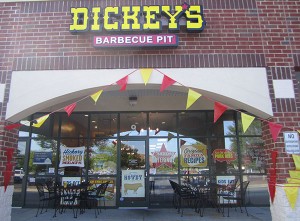 Thursday = The first 50 people to arrive at the new Dickey's Barbecue Pit in Beaverton will receive gift cards worth up to $50.
Friday =
$2 pulled pork sandwiches
92.3 KGON will broadcast from 11am – 1pm
Drawings announcing:

One winner of a $500 gift card
Three recipients of a year's worth of free BBQ
Saturday = Dickey's gear and merchandise giveaways all day
Serving the Community
A native of Oregon, Saperstein chose to enter the food industry after working in the mortgage industry because he wanted to be his own boss. Giving back to the community is on the top on his list.  "Our location is near Southridge High School, so we're looking forward to catering their events and giving back to the students," says Saperstein.
Saperstein says "The Portland area has nothing like Dickey's Barbecue Pit and everyone is getting excited about trying our authentic barbecue." For those in the area this week, stop by the new Dickey's Barbecue Pit in Beaverton, OR located at 14700 SW Murray Scholls Drive, Suite 102. For questions regarding the grand opening you may call 503.746.5299.
Future plans for Saperstein include hopes to open more locations in the Portland area. Currently, he resides in Beaverton with his wife and child.
About Dickey's Barbecue
If you are like Todd Saperstein and want to become your own boss, explore owning a Dickey's Barbecue Pit. The restaurant has been serving mouth-watering, great tasting barbecue since 1941. The restaurant is easy to operate and requires only a small crew.
Tap here to watch a video and learn more about owning a Dickey's Barbecue Pit in your area.