Franchise Solutions Announces New Licensee for The Drug Test Consultant
|
October 15, 2014
New Partnership
Congratulations to The Drug Test Consultant (DTC) and Bryon Gravelle of Bancroft, MI on their new partnership. Gravelle first inquired to The Drug Test Consultant on December 30, 2014 and it was the only company he sought information from on Franchise Solutions.
One-Time Investment under $20,000
Don't want to work for somebody else the rest of your life? For $19,995, you can take this opportunity to launch a DTC business.
There is no limit to where this business can take you. You can choose to supplement your income and work part-time or be involved in it full-time.
Although the first thing that comes to mind when you think of drug testing is someone administering a drug test for drug abuse, that isn't the only product/service you can offer as a DTC owner.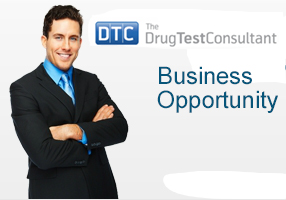 Other services include:
Testing for regulatory compliance
Paternity and other DNA testing
Environment testing for presence of drug traces
Nicotine and alcohol testing
Educational materials
Access to support and rehabilitation resources
Laboratory confirmations of positive test results
Design and implementation of drug-free workplace programs
Tap here, to hear from other DTC owners and explore the Business Launch Package and training DTC provides new owners.
Benefits of Owning a DTC
If you're looking for a business that can wax and wane with your life, provide residual income and help others at the same time, owning a DTC business might be right for you. Manage the business your way and benefit from:
Turnkey operation
In-house training
Complete marketing package
Business-ready website
National client acquisition program
Recession resistance
No franchise fees, profit-sharing or royalties
Complete the form at the bottom of this link to receive more free information on the rewards of owning a DTC.
Franchise Solutions has helped thousands of franchisors to refine their recruitment marketing message, generate franchise sales inquiries, and make quality sales connections like the one between DTC and Bryon Gravelle.
Tap here, to explore other business opportunities at Franchise Solutions.