|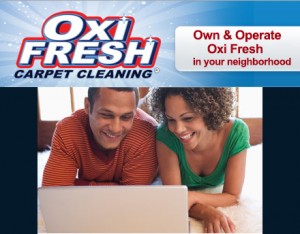 Oxi Fresh announced it is having a stellar year and reported opening 48 new franchises throughout the United States and Canada during the first three quarters of 2014.
If expansion continues at this rate, Oxi Fresh forecasts 12 more locations will open by December 31, 2014.
"I believe entrepreneurs are choosing Oxi Fresh because we're the next step in the evolution of the cleaning industry," says Kris Antolak, Oxi Fresh Director of Franchise Development. "We're a company that combines green systems with modern technology to create a streamlined, powerhouse of business."
You can own the Oxi Fresh opportunity for under $50,000, and it includes a full equipment package, nation-wide scheduling center and suite of other benefits and support programs.
Oxi Fresh has won awards and been recognized by industry leaders including Entrepreneur, Inc., Forbes, Franchise Times and the Franchise business Review.
If you'd like to explore more about owning an Oxi Fresh in your area, tap here.