Another Franchise Solutions Lead Turned Background Screeners of America Consultant
|
November 4, 2014
New Consultant
Congratulations to Background Screeners of America (BSA) on solidifying their partnership with Carla Scoggins of Houston, TX. Scoggins first inquired to Background Screeners through the Franchise Solutions website on September 8, 2013 in addition to exploring other opportunities.
Benefits of Owning a BSA Business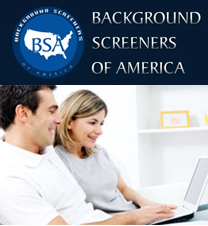 Background Screeners of America has a unique business model. It's an Internet-based business that lets your computer do the work for you 24/7, 365 days a year. As a BSA owner, you would work with businesses, organizations and individuals by assisting them in running background checks.
Some of the key benefits of BSA are: there are no products to stock, you can work from anywhere, your clients are trained to do the work themselves, it generates residual income, and the cost to get involved is under $20,000.
Additionally, there are no franchise fees, no royalties, no monthly dues or any other fees you will ever need to pay. BSA earns profits after you first earn yours.
Growing Industry
The number of background checks performed in the U.S. is increasing by 25% a year! Explore the Background Screeners of America opportunity today and learn about becoming a consultant like Carla Scoggins.
Want to compare BSA to other opportunities where you can work from home? Tap here to explore other home-based businesses on Franchise Solutions.
Franchise Solutions has helped thousands of clients to refine their recruitment marketing message, generate sales inquiries, and make quality sales connections like this one for BSA. Tap here to learn more about advertising your business on Franchise Solutions.