Job Growth in the Auto Industry Surges in November
|
December 16, 2014
Several businesses in the automotive industry such as auto parts, dealers, gas stations and auto repair stores enjoy growth in all seasons and are fortunate to survive during recessions and economic down turns. The necessity of having transportation and maintaining vehicles provides great job security and recurring revenue for those business owners.
It is for these reasons and more that owning an automotive store is a solid investment. And now is the perfect time to do a little research. According to the monthly national franchise report compiled by ADP, the U.S. added 25,000 jobs in November, and of those, 5,740 new jobs were created by auto parts and dealer stores. This sector produced one of the greatest number of jobs in November, second only to the restaurant industry which created 11,820 new jobs. Over the past six months, the auto industry has created an average of 4,740 jobs per month.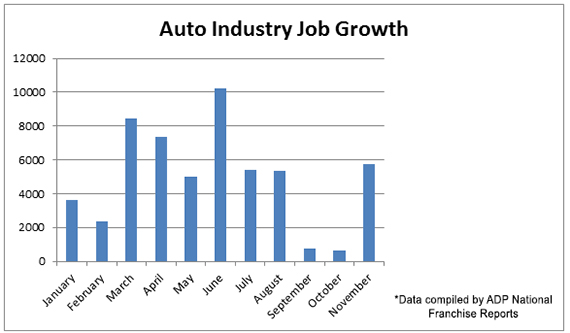 One great business opportunity to highlight in this sector is NAPA AUTO PARTS. The company has experienced growth for 80 years out of its 84-year history and has added 81 new NAPA stores in 2014.
This investment is perfect for someone with a strong work ethic and someone who enjoys working with people. Aside from the recognized brand, NAPA AUTO PARTS store owners are backed by:
National advertising campaigns
Inventory system
420,000 available parts
Assistance with choosing a site, setting up your store
Management support
Distribution center sales representatives
Training programs
Tap here to learn more about the benefits of owning a NAPA AUTO PARTS store and here to compare other opportunities in the auto industry.