Franchise Solutions Interviews Dr. Hayes on New Franchising E-book
|
December 3, 2014
What makes an amazing franchise amazing? I had an opportunity to talk to Dr. John Hayes who has been writing and speaking on the topic for decades and see which top 12 franchise opportunities made the grade.
"For years, franchising has been the most popular path for those looking to open a small business," Dr. Hayes said. "But with so many options in so many industries, deciding which opportunity is the best is an almost impossible decision. In this book I take a look at what I have found sets some franchises apart from others and provided a dozen examples."
What made you decide to write 12 Amazing Franchise Opportunities for 2015?
I have a goal to publish 100 e-books, and because of my career in franchising many of them will focus on franchising. The book will generate interest in companies and aid prospects in finding the perfect match.
How long did the book take you to write?
Not as long as it would have had I not known something about franchising! Plus, I did not write every word of the book because I allowed the 12 franchise companies to tell their own stories, and then I edited the stories. I wrote the introductions to the 12 stories and the entire "how to" chapters. From conceptualization to completion it was probably 6 months.
What were your top 3 criteria used to determine the finalists?
An amazing story. If I (and some others who were involved in the process of selecting the companies) didn't say "that's amazing" at some point in reading the franchisor's story, then the story didn't qualify.
Different industries. While there's some overlap of industries in the book, we were looking for franchise concepts in different industries because this mix would make the book more salable and of interest to the public.
Credibility of the franchisor. This was a bit tricky with new companies, but generally I knew the franchisors and I had no doubt about their credibility. The last thing I want to do is lead someone to a bad franchisor.
How did you start out? Did you ever own a franchise?
I started out as an author who just happened to write a book about franchising – Franchising: The Inside Story was the first book published in America to help people evaluate and buy a franchise. After the publication of that book the media said that I was a "world renowned franchise authority" which always made me laugh because I spent all of 6 months writing that book – when I started I didn't know how to spell franchising. I was being called an "authority" even though I had never worked for a franchisor or owned a franchise. I was a college professor at the time. The book then opened doors for me to advise franchise companies, write for them, speak and train for them, and I developed a company that specialized in the marketing of franchises internationally. Along the way I bought franchises and ultimately I served as the CEO of a major real estate investment franchise company. Once the contract expired with the franchisor, I decided to return to university teaching.
What piece of advice can you give to our readers who are about to start the process of looking for a franchise?
Make absolutely certain that the franchise has developed a series of credible, workable systems. Many franchisors do not have good systems and consequently their franchisees struggle to succeed. Verify the systems and then, if you buy the franchise, follow the systems. All of the 12 in AMAZING have solid systems.
What is the biggest change you've seen in the franchising industry?
Franchising has always been the "ugly cousin" of business. It's often not taken seriously. Mainstream media often treat franchising as something people do when they can't start a "real" business. Universities often don't take franchising seriously – how many teach it? So I don't know that anything has changed to the point that I would say it's the "biggest change" but the community has grown, and through the efforts of IFA and numerous public relations firms, franchising is better known today, and the interests of franchisors and franchisees are better known and to some extent protected.
What will you work on next?
I have at least 6 ideas for new Amazing titles – 12 Amazing Franchise CEOs, 12 Amazing Franchise Industries, 12 Amazing Master Franchise Opportunities, etc., and numerous other ideas for e-books related to marketing and management. I hope to decide which title I'll tackle next – eventually I plan to do all of them!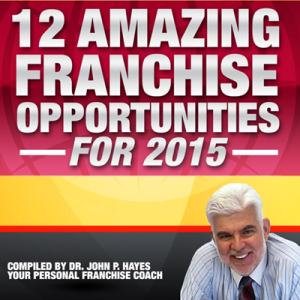 For those of you interested in reading the amazing stories of the following 12 companies, Dr. Hayes' e-book is available through Amazon.
1. Dickey's Barbecue Pit
"With 500 locations in 43 states by the end of 2014, and another 150 locations in development, barbecue has proven to be a smokin' hot franchise opportunity."
2. Farm Stores
"This is a $700 billion industry that's targeted for growth in the U.S. and many other countries with its convenience in customers never having to get out of their vehicles."
3. Pinot's Palette
"It creates a social experience where guests enjoy their favorite cocktails and snacks while learning to paint. Because it is a no experience required art event, the focus is on fun."
4. United Franchise Group (Franchise concepts include: EmbroidMe, Experimac, Izon Global Media, Plan Ahead Events, Signarama, SuperGreen Solutions and Transworld)
"With company-wide sales of $450 million annually, United Franchise Group's experience and vision for growth has led all of its brands to amazing levels of success."
5. PostNet
"For years I've watched the PostNet corporate team develop their franchise network. What I value about them is their honesty, passion, and their commitment to doing everything that's possible to help their franchisees succeed."
6. FASTSIGNS
"In the world of signage and visual graphics, FASTSIGNS continues to be a top-rated franchise opportunity year after year."
7. Mr. Appliance
"The brand is very popular in America and has a predictive and successful business model … Appliance repair is a necessary and repetitive business which will continue to expand."
8. Wingstop
"Multi-unit operators are welcome as Wingstop will surpass 1,000 locations within the next three years. And if that's not amazing enough, I suggest you go sample some of their wings!"
9. Palm Beach Vapors
"Palm Beach Vapors is America's premiere franchise opportunity retail vapor store with an impressive business model that requires less than $100,000 for start-up."
10. Dental Fix RX
"This is a franchise opportunity that's smack dab in the midst of a booming industry, and that's one of the signposts for success for franchisees."
11. Jani-King
"While Jani-King attracts franchisee investors who have accumulated years of business experience (and the money to show it) the company also attracts franchisee investors who are just getting started in business … When it comes to the cleaning industry, Jani-King is one amazing opportunity."
12. America's Swimming Pool Company
"I'm enthusiastic about the company's leadership, and I expect we'll see more ASP franchisees throughout North America in the coming years."
Congratulations to the Franchise Solutions' clients ranked on Dr. Hayes' list!
About Dr. John Hayes
Dr. John Hayes is one of the world's most published authors and speakers on the topic of franchising. Within days of publication, his franchise books such as Buy Hot Franchises Without Getting Burned and 101 Questions to Ask Before You Invest in a Franchise climbed to #1 best sellers in their categories on Amazon.com. In addition to his career in writing and speaking, John has also been a franchisee, a franchisor and a franchise advisor. Dr. Hayes has authored 18 books overall, including Start Small, Finish Big with Subway co-founder Fred DeLuca, Network Marketing for Dummies with Zig Ziglar and others. Dr. Hayes currently teaches at the Gulf University for Science and Technology in Kuwait.