Houses Aren't the Only Thing HomeVestors Flips: Prospects to Owners
|
December 30, 2014
About HomeVestors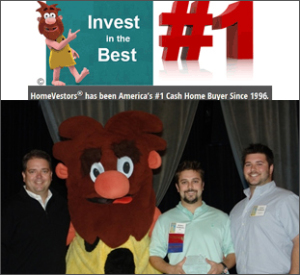 If you love real estate, consider turning your passion into a complete real estate business with HomeVestors. They've been helping owners get out of "ugly" situations by purchasing homes in "as is" conditions with cash and flipping houses since 1996.
Don't take our word for it that the company also known as the "We Buy Ugly Houses ® Company" is a beautiful opportunity. For eight years in a row, HomeVestors has been ranked among the top 50 franchises for franchisee satisfaction by Franchise Business Review.
Find out more about starting a Real Estate franchise here.
HomeVestors, with the help of Franchise Solutions and Franchise.com, has three new sold deals and solidified the following partnerships:
| New Owner | Residence | Date Inquired | Portal |
| --- | --- | --- | --- |
| Margaret Linde | Lower Lake, CA | March 14, 2012 | Franchise Solutions |
| Juan Guerra | TX | July 27, 2010 | Franchise Solutions |
| Erick Meza | Palmdale, CA | August 18, 2013 | Franchise.com |
David Hicks, co-president of HomeVestors, says "This has been the biggest year of growth for HomeVestors in our history. The number of franchises has doubled since the end of 2012 – from 268 to over 530."
Hicks says the new franchisees "all have very diverse backgrounds – a tax accountant, manager of an equipment company and medical sales representative. What they all have in common is a passion to learn the real estate investment business. Their experience in real estate varied – one had no experience in real estate investment at all, one had very limited experience, and one had 10 years' experience. But, all had the desire to learn and understood the value of a system and brand that has bought over 60,000 houses."
Projections for 2015
Franchise News reports that the U.S. economy in December showed the strongest gains in the past 11 years which yields favorably for franchise investment in the coming year. According to the Optimism Index Bill Dunkelberg, NFIB Chief Economist for the National Federation of Small Businesses says, "Expectations for business conditions six months out rose a huge 16 percentage points while expectations for real sales volumes rose 5 percentage points." And for HomeVestors, this translates into anticipated growth and a continued interest in real estate and investing.
Learn more about the benefits of becoming a HomeVestors franchisee today.