Franchise Solutions' Kim Vezina Woods, CFE Elected President of NEFA
|
March 31, 2015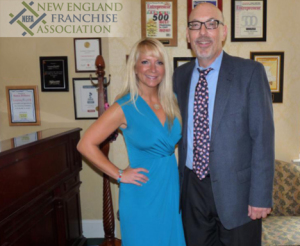 Join us in congratulating Kim Vezina Woods, CFE, Senior Client Consultant of Franchise Solutions and Franchise.com, on her election as the New England Franchise Association's new president.
Woods served as NEFA's Vice President for three years under Murray Vetstein and was elected president at the March meeting.  In her new role, Woods will work with the other NEFA Board of Directors to ensure New England franchisors, franchisees and franchise suppliers have an opportunity to meet, learn and build lasting relationships while promoting franchising.
About NEFA
NEFA, a Franchise Business Network affiliate of the International Franchise Association, is the largest group of professionals who support the benefits of franchising in New England. NEFA fosters learning through educational and social events where speakers address solutions to any challenges franchisees and franchisors may face. They also:
Share and learn best practices in the industry
Suggest tips on recruiting and training employees
Provide networking opportunities to meet other franchise executives and develop mutually beneficial relationships
The past educational series have covered topics on:
Best practices for franchise development
Social media
Franchise relationship laws
Financing for franchisees
Marketing strategies
How to run successful conventions
If you have an interest in learning more about joining NEFA, tap here
The Next NEFA Event
Join NEFA at the Boston Franchise Expo April 11th and 12th at the Seaport Trade Center.  Their next scheduled learning session is scheduled for June 9th and will be held at Babson College in Boston.
Background
In addition to serving on the NEFA board, Woods has worked at Franchise Solutions for the past 15 years in sales developing relationships with franchisors and executives within the franchise industry and is a busy mom of two boys.  She was also in the Navy Reserves for 10 years.
Connect with Kim on Facebook, LinkedIn and Google+.
Franchise Solutions
Franchise Solutions is the Internet´s foremost medium for connecting with qualified, prospective franchise buyers. Delivering online sales leads since 1996, the company has an established track record of helping franchisors achieve their development goals, with an unwavering commitment to generating maximum return-on-investment (ROI) for our advertising clients. Tap here to view the Franchise Solutions directory and here to learn about advertising on the site.