Franchise Solutions Spotlight – A Big Slice of the Donatos Pie
|
March 4, 2015
If you're from the Ohio area, you've heard of Donatos, and for those of you who aren't, it's coming your way. The family-owned pizza restaurant is expanding and recruiting franchisees aggressively in specific market areas.
Restaurant veteran Michael Simon, of Westerville, OH entered the Donatos system five years ago with his business partner Jack Whiting, when Joh Houck, Donatos VP of Development, approached them. Simon and Whiting formed the Titan Restaurant Group and purchased 39 Donatos Pizza parlors.
Simon says working with Houck to make the original investment was a smooth transition. The stores came fully staffed, and they have grown internally over the past five years bringing people into the system.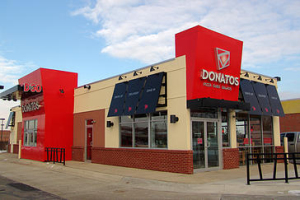 Now, Titan owns a total of 42 Donatos locations: 21 locations in Indianapolis, 16 in Cincinnati and 5 in Cleveland. Simon says the restaurant industry is one where you are like "a jack of all trades, master of none; you're the HR guy, operations, finance, construction guy. You touch everything in this business." You can't say that about all industries.
Simon holds many titles. Among them, he's a husband, father, golf enthusiast, but most of all, he's a "restaurant guy" who's excited about the future and direction Donatos is headed. He tells those who are looking to own a Donatos that "Although the Donatos brand has been around for 50 years, the next 20 are going to be much more exciting." Simon continues, "For Donatos franchisees, it will be like starting on the ground floor of a 50 year old company."
For those of you unfamiliar with the Donatos culture, it is as friendly as the people from the Midwest and is based on strong family values and treating others as you would have them treat you. But what Simon says sets Donatos apart from other pizza chains "at the end of the day is the quality of the product. Donatos has done taste test research that has come out very high and is distancing themselves from other chains like Dominos through its product platform and focus on customer connection."
As Titan implements initiatives formed over the last two years to solidify the Donatos brand, they plan to continue to grow the brand and build more stores. Look for one in your area soon.
Donatos Pizza is one of Franchise Solutions' newest clients. To find information about the benefits of owning one, tap here. Be the first to bring Donatos to your town. See if you qualify. Start by filling out the form at the bottom of the ad page here.