5 Things Franchise Solutions is Excited about This Cinco de Mayo
|
May 5, 2015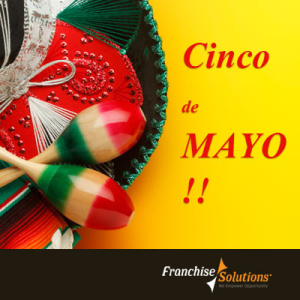 Hola and happy Cinco de Mayo from Franchise Solutions!
In Mexico, Cinco de Mayo is celebrated with political speeches and battle re-enactments to commemorate the victory over France in the Battle of Puebla fought in 1862. In the US, it's celebrated a little differently and more wide-spread. Queue the mariachi band, parades and drinking.
In honor of this festive holiday, we'd like to share 5 Things Franchise Solutions is Thinking about This Cinco de Mayo.
1. The holiday is Celebrated Diversely Around the World, as Should Franchising
In fact, this holiday is celebrated more in the United States of America, by Mexicans and Americans, than it is in Mexico despite the fact that this holiday originated in Mexico.  I guess that shouldn't be too surprising since more than 33.7 million residents of Mexican descent live in the US.

But here's a little fun fact: Did you know that people in Sydney, Australia and Canada celebrate it too? Yeah, down under they host a drink competition called the Margarita Showdown and in Vancouver they hold an annual skydiving event followed by a moustache contest, tacos and mojitos.

Diversity in Franchising – The International Franchise Association (IFA) originally created an education and recruitment program called MinorityFran in 2006. The program changed its name to DiversityFran but the mission to encourage minority involvement in franchising remains the same. If you'd like to realize the dream of owning your own business, check out the opportunities here.

Or, if you are able to make it to an upcoming franchise show there are two right around the corner:

The International Franchise Expo (IFE) in New York Jun 8-10, 2015 and the Franquicias Expo Guadalajara, Mexico June 18th – 20th, 2015.
2. Jobs and Revenue the Restaurant Industry Creates
Although owning a restaurant warrants working long hours, it is a rewarding business and has a great impact on the economy. According to the National Restaurant Association, the restaurant industry employs 14 million people and, on a typical day, brings in $1.9 billion in sales. Would you believe that eight in ten restaurant owners started their industry careers in entry-level positions?  If you enjoy working with people and being around food and want to consider owning a franchise in the food industry, tap here to view your options.
3. Sculpture Hospitality for the Beverage Industry
Americans spend about $2.9 billion annually on margaritas, which account for about 14 percent of the country's cocktail sales. In 2013, Cinco de Mayo generated $658 million in alcohol revenue and 30.6 million cases of beer were consumed. Each year, the hospitality industry loses about 25% of alcohol due to waste, over pouring or theft. One unique liquor inventory control and auditing business called Sculpture Hospitality can help bar and restaurant owners save money. Check them out here.
4. Got Fresh Food?
The amount of fresh food sold during the week of Cinco de Mayo is astounding.  In 2013, 87.3 million pounds of avocados were sold and 349 million orders of guacamole were served. If you love the thought of giving people access to fresh organic food, then explore one of Franchise Solutions' newest clients called Organics Live, a sustainable food and grocery delivery business.
5.  Don't Hold the Mayo
Sure this holiday features traditional Mexican fare, but people also reach for pizza, subs and sandwiches as their late night snack. Consider a life in the food, restaurant or vending industries and explore opportunities with Donatos Pizza, Jimmy Johns Gourmet Sandwich Shop and, for a healthier alternative to snacking, look at Naturals 2 Go.

Most food-related franchises don't require previous experience, but rather a knack for business acumen. Help keep the public and your family well fed. Search among the hot new food franchises today and have a fun and safe Cinco de Mayo.