|

Spring is here and with it comes the peak of lawn care season. Are you ready to get back in the swing of things?
Gearing up for the busy spring season means making sure that blades, and minds, stay sharp.  Landscapers are equipping their teams with the proper gear to start the season off right.  Depending on the region, spring work can often be cold and wet and crews need to ensure that have the proper uniforms.
While you're checking your tools and getting ready for a busy spring now is a prime time to prep your business from top to bottom. It's time to brush up on those business skills and organize your business to run in top shape.
Are these in your toolbox?
Increasing and current knowledge of the landscaping business
New trends and tools come out regularly. You can have the right staff, the right clients, but if you're not staying up to date with the industry then your service mix can become outdated.
Strong knowledge of PR, Marketing, Advertising.
It takes more than technical knowledge to run a successful business. You may have mastered traditional forms of promotion, but are you current on the trends developing with digital marketing? The digital realm is changing every day and keeping up with the trends can often seem like another full time job for some business owners.
Strong management skills
Management skills are a necessity to run a successful business. Being a good manager can make retaining your employees and recruiting new employees much easier.
Enough employees to allow you to work on the business and not in it
With all that goes into making a business a success, business owners need to be able to work on the business and not have to juggle between their time in the field and time in the office. Eventually with the right employees, business owners can find their quality of life improved by being able to enjoy the time they are able to spend away from the business.
Solid business systems
A key factor to success in business is having solid business systems backing your business. These systems provide you with steps to run your company such as a process for retaining and recruiting employees, marketing plans and service outlines.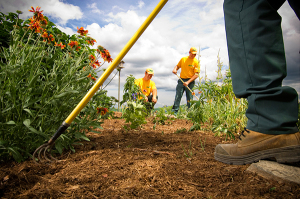 So before the season begins, be sure to check your toolbox to see if you have all of the tools you need to be successful. Are you missing any of these tools? The Grounds Guys can help ensure franchisees are equipped for success every single day.
The Grounds Guys is a brand franchised under The Dwyer Group, Inc. A strong customer focus and craftsmanship built on cutting-edge technology has made The Grounds Guys leaders in the landscaping and lawn industry since 2010 with almost 200 franchises today. The business support that The Grounds Guys gives franchisees offers a competitive edge along with the right tools to optimize success. The Grounds Guys also preps franchisees to be able to be industry leaders with knowledge and cutting-edge technology, but more importantly reach their full potential in business and in life.
Why franchise? Franchising not only provides tools for a better business, but according to the IFA, 1 in 8 private nonfarm jobs is because of franchising. Not only is franchising providing more jobs, but it is also generating over $800 billion in revenue yearly. Opportunity waits in the franchising world with tools for success, but it is up to you to grab those tools.