Franchise Spotlight with Mosquito Joe
|
September 1, 2015
Have you ever wondered what it would be like to own a franchise? We sat down with Gail Yongue, a new Mosquito Joe franchise owner in Alabama, to get her take on the process and how her first year as a franchise owner has been.
1. How long have you owned the Mosquito Joe franchise? We opened in March 2015 after purchasing in July 2014.
2. Why did you choose to go into franchising? No single person has the entire skill set to run a successful small business, so surrounding yourself with people who have the skills you lack is important. Franchising is perfect for this; you have a corporate team of people with all the different skills that you need to be successful in your business. Additionally, you have the other franchisees to connect with and gain insight from who have been open already, or bring other things to the table that you lack.
3. What were you doing before you became a Mosquito Joe franchise owner? I was a hospice nurse, a RN and my husband, Jim continues to work at his full time job as an engineer consultant.
4. How many territories/locations or franchises do you own? We own this single territory and location and no other businesses.
5. Why did you choose Mosquito Joe? Several reasons played into this decision. We have a huge mosquito problem in our area, and although we have competition we felt the area was underserved for this service. The franchise branding is excellent and was the final thing which sold us on this franchise. We felt the business concept was good, the corporate support was dynamic, and the marketing and branding pushed it over the edge. Additionally, the company has high standards in customer service expectations, and that is in line with our philosophies in business.
6. How would you describe yourself as an entrepreneur or business woman? Dedication to customer service, always doing the right thing, and striving to be better. Business is ever changing and evolving; you have to push yourself to change and evolve with it. You have to constantly look inward and see what you need to change and improve to be a better leader, business owner, wife, friend, etc. I think striving to always be better and setting the bar high for yourself and your staff makes for the best product/services you are selling to the customer. I don't accept poor customer service, low quality, or laziness. We work hard, but also play hard. We reward the employees for their hard work and dedication, which we feel helps with reduced turnover. We've treated the employees to dinners out as a group to watch a local band, drinks out, home cooked meals, etc.
7. How much capital did it take to officially open your business? $110,000. We set aside enough for the first year and for cash flow purposes if we needed it. We grew so fast, ending up with three trucks very early on so it was good we set aside above what corporate suggested.
8. Who advised or mentored you along the way to help you make your decision? What research did you do before making your decision? We spoke with my husband's uncle. He owns a successful fence business in Nashville, TN. Other than that, we kept it under wraps. Most people are negative about taking risks, and you can't listen to them or you will never follow your dreams. We researched the competitors to make sure we felt this was the right match for our personalities, and to know what we would be up against.
9. What can you say about the Mosquito Joe team and the process you went through to own a Mosquito Joe franchise? The process was very smooth and the team was very supportive in becoming an owner. We had never done anything like this before, this is our first business. Therefore, we likely needed more handholding and were a harder sell compared to anyone who had already owned a business. The corporate team was not pushy in making a sale. They provided the information and guidance we needed and let us make our own decision. It's smart business. You don't want a lot of franchise owners out there who are going to negatively impact the brand. So, it's good to bring on valuable franchisees.
10. Name a challenge you encountered while opening your franchise? The sudden growth at the beginning of the season. We had to add a second van within eight weeks of opening, which was completely unexpected. This was weather driven and luckily marketing mailers dropped at the same time. We couldn't have predicted it, and it was a positive challenge.
11. What advice can you offer others who are considering owning a Mosquito Joe franchise? Start with someone who can be dedicated full time to sales and marketing, and day to day management. Give yourself enough time prior to opening to get things squared away, and financially have money set aside for sudden increases in volume if you need to get another van sooner than projected.
12. Living in the South, we expect customers would need your service during more moths of the year than Mosquito Joe franchise owners who have snowy winters. Do you know what they do during the winter? For myself, I remained with my hospice company and will work as a hospice nurse during the off season. Northern franchises have a much shorter season. Some have an off season business – like Liberty Tax, which the seasons complement each other.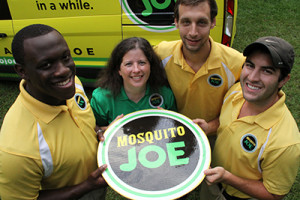 13. Can you tell us any funny anecdotes or situations you've encountered in your business? We've had a lot of things I would deem funny this year:
a. A glove got stuck in the blower and the guys couldn't figure out why it was blowing out the spray. Funny, we still can't figure how it got stuck in there.
b. One customer told me his mosquitoes were so big they had their own shoes.
c. One of my techs was preparing to spray and a car drove by – the kids yelled out the window "we love Mosquito Joe".
14. What sets your franchise apart from others? We pride ourselves on our high level of customer service. We are sitting at 82% on our Listen360 Survey and are very proud of this. We have been in the top 10 all season when compared to the other Mosquito Joe franchisees. Currently, we are #5.
We like to support cycling in the community and with our staff. We sponsor a local juniors cycling team, have several group rides with any staff who would like to join, and next year would are going to work toward becoming a Bicycle Friendly Workplace with The League of American Bicyclists.
Gail and Jim Yongue are the proud owners of Mosquito Joe Gulf Coast Alabama which serves the following areas: Bay Minette, Daphne, Eight Mile, Fairhope, Gulf Shores, Irvington, Loxley, Mobile, Orange Beach, Robertsdale, Saraland, Satsuma, Semmes, Silverhill, Spanish,  Fort, Stapleton, Summerdale and Theodore.
To learn more about the Mosquito Joe franchise opportunity, tap here. You can visit them on Franchise Solutions and watch the official Mosquito Joe franchise opportunity video here.