|

The Scout & Molly's Boutique doors are open to you, and Maryalice Keller walked through them, ready to showcase the contemporary collection to customers in the Sarasota, Florida area.

Keller, formerly of Pittsford, NY, a suburb of Rochester, recently relocated to Florida.  She first inquired to Scout & Molly's, in addition to two other companies, through Franchise Solutions' web portal April 6, 2015 and became a Scout & Molly's franchisee August 8, 2015.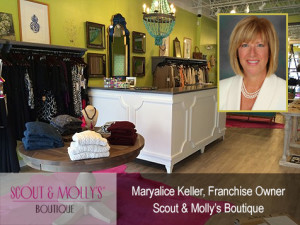 What attracted her to the opportunity was her passion for fashion, and the opportunity to provide customers a comfortable and fun shopping experience.  "I was also quite impressed with Scout & Molly's discovery process, which took me step by step through the various aspects of the business and franchise ownership to help determine if it was a good fit," she said.
A Flattering Franchise Fit
The appeal of a Scout & Molly's franchise is in the flexibility in ownership.  You can choose to run your boutique business as a semi-absentee owner where you hire a manager and a small team of associates to operate the store. Or, if you prefer to be involved in all the aspects of the business, then the floor is yours! Keller chose to be an active owner/operator.
History of Scout & Molly's
Scout & Molly's first store was opened in 2002 by the founder Lisa Kornstein. The boutique began licensing in 2008 and has been franchising since 2013. Kornstein has always been intrigued with fashion and clothes but rarely thought she would own her own boutique. Like many, Lisa thought becoming an entrepreneur was not attainable due to the overwhelming amount of research and time it takes to start a business from scratch. Scout & Molly's wants business ownership to become a reality for more entrepreneurs by providing the:
Proven system
Real estate assistance
Inventory and purchasing control
Technology
General retail operations training and support
Kornstein says "I think the concepts several people look at initially are food, hair care and assisted care franchises." She continues, "We've attracted a lot of investors who purchase multiple locations because it is a smart, semi-absentee model, and Scout & Molly's is a sexier concept. "
"Maryalice is going to be a great asset to Scout & Molly's," adds Kornstein. "Her new location – opening in early 2016 – will attract both locals and tourists." Currently, Keller is in the process of finalizing the plans for her new boutique in a lifestyle center location near a Whole Foods in downtown Sarasota.
US Women's Clothing Stores – Industry & Trends
A $48 billion industry
Has an annual growth rate of 2.4%
Expected to grow continuously over the next 5 years
Pastels continue but in more saturated tones such as coral and salmon
Culottes return and in every fabric
Jewel tones including deep periwinkle and wine will be introduced as next season's colors
A Fun, Fashionable Opportunity
Explore owning a Scout & Molly's as it provides a niche within the retail industry and is poised to be a national leader in the retail boutique industry. Scout & Molly's gives you the opportunity to own a fun, fashionable and attractively lucrative franchise.
"One of my favorite fashion quotes is 'Anyone can get dressed up and glamorous, but it is how people dress in their days off that is most intriguing' by designer Alexander Wang", said Kornstein. "At Scout & Molly's, we can definitely help you get dressed up and fabulous for those special occasions, but we especially love helping you feel amazing on your days off!"
The Scout & Molly's franchise system is ahead of schedule in terms of their development plans. So far, they have contracted 41 franchises this year, and Kornstein believes they'll hit their target of opening 100 locations way before 2019.
Tap here to learn more about Scout & Molly's Boutique franchise.
Congratulations to Scout & Molly's Boutique and to MaryAlice Keller on their partnership.
Franchise Solutions
Franchise Solutions has helped thousands of franchisors to refine their recruitment marketing message, generate franchise sales inquiries and make quality sales connections. Learn more about advertising with Franchise Solutions here.
You can compare and view other retail opportunities here.