Look Who Scouted Out & Found a New Business
|
December 8, 2015
Linda Gorczynski of Strongsville, OH initially inquired to Scout & Molly's through FranchiseSolutions.com on August 17, 2015 and was awarded the franchise November 11th.  Gorczynski is a special education attorney who works part-time at Hickman & Lowder in downtown Cleveland and plans to continue practicing law as she runs her Scout & Molly's Boutique. Although she loves what she does, she's always wanted to own her own business "something unique and upbeat where I could have an outlet for my creative side."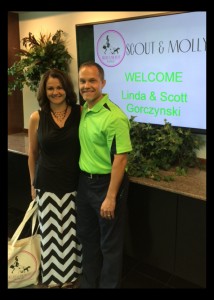 Scout & Molly's offers guidance and support without being over bearing. Initially, Gorczynski was leery of entering the world of franchising because she thought it would mean giving up too much control. What attracted her to the Scout & Molly's Boutique was, "The possibilities; I loved the shabby-chic look of the store and the fact that it offered unique, stylish clothes for women."
The Scout & Molly's Boutique offers franchisees the ability to cater to their customers and include their own personal touch in each location. "As an owner I'll have the ability to choose what clothes and accessories I want to carry at my store so our inventory will be individualized," explains Gorczynski.
The Scout & Molly's Boutique franchise provides an extensive support system which includes training, marketing, inventory management systems and site selection assistance. Gorczynski is starting her location search now and plans to open her clothing store in the spring.
As far as the future is concerned, Gorczynski says "My goal is to own two or three stores as quickly as I can.  It's going to be a great opportunity for my children as well to learn about small business first hand and to see their mom going for her dream . . . and succeeding."
Open a Chic Clothing Boutique
Have you always dreamed of owning your own business? Scout & Molly's Boutique gives you the option to run your business as a semi-absentee owner where you can hire a manager and a small team of associates to carry out the daily operations.
If you would like to learn more about entering a $25 billion clothing boutique industry, consider joining the experienced team at Scout & Molly's Boutique.
About Franchise Solutions
Franchise Solutions is an online lead generator to hundreds of franchises worldwide and has helped thousands of franchisors make quality sales connections like this partnership with Linda Gorczynski.
Want to compare other retail businesses? Go to the Franchise Solutions' retail franchises directory.Or, learn more about advertising your franchise on Franchise Solutions.