How Franchise Solutions Can Help Eliminate Stress
|
April 12, 2016
Since 1992, April has been declared Stress Awareness Month and what better way for Franchise Solutions to recognize it than by sharing business opportunities which help people relieve stress?
A poor work environment or an unsatisfying job causes undue strain. If work has pushed you or someone you know over the limit, one way to take control of your income and life is to become your own boss.  Franchise Solutions can take the stress out of stress awareness month by making it easy to search and find a business to own. Take a look at these franchises which help others to relax.
Provide a cure for stress by owning a franchise in the health care industry. Franchise Solutions has massage companies, spas and salons for sale here.   The need in this country is climbing for solutions to the mounting anxiety that ordinary life brings.  Research estimates that massage therapy alone was a $12.1 billion industry in the country in 2015.
Of course there are other obligations that increase our stress levels.   Is it any coincidence that tax day usually falls smack dab in the middle of stress awareness month*? Things to do with money and filing tax returns do add tension to some people's lives. Help people with their taxes and finances by opening an accounting or tax service business. Revenues of $11 billion are forecast for 2018. Tax preparation is unusual in that it provides a service to assist with a process that legally every American is required to do: submit an income tax return. Because it is required, tax preparation tends to be recession resistant.
Parents struggle every day over childcare solutions.  There are many franchises that specialize in this area.  If you love to work with children, why not help others out providing a quality place for kids? Reduce the stress in your life by taking action and taking control of your schedule. Find a business to own on Franchise Solutions.
Here are some friendly tips to decompress and relieve stress that I have found helpful in my life: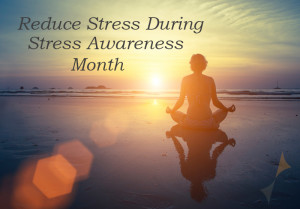 Jot it down – writing about your feelings in a journal can be very therapeutic and help you get it off your chest.
Catch some sun – take a walk or exercise to sweat it out.
Just breathe – spend 5 minutes with your eyes closed and breathe deeply for a relaxing meditation.
Laugh out loud – laughter releases endorphins which help boost your mood. Watch a funny video or tune into your favorite sitcom.
Do something you enjoy – play with your pet or do your favorite hobby.
*This year, tax day is Monday, April 18th because the legal holiday in Washington called Emancipation Day is being celebrated on April 15th which is normally tax day.