Tutor Doctor: Helping Grads Fund a Business
|
April 19, 2016

Tutor Doctor Franchise is helping athletes transition from sports to business ownership.
Tutor Doctor, an in-home private tutoring franchise, launched an Athlete2Entrepreneur program which provides interest-free loans to graduating college athletes. The educational franchise has set aside $1 million for the fund and enlisted former Olympic volleyball player Lina Taylor to help spread the word.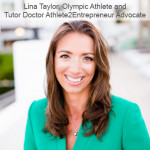 Lina Taylor, an international speaker and sports industry professional, agreed to mentor athletes transitioning from sports to business and is going to help educate college athletes from the graduating class of 2016 about this loan program.
Colleges and universities are expected to award 2.75 million associate's and bachelor's degrees1. With increased competition and limited work experience, graduates today may find it difficult to start a career.  But Taylor sees the assets athletes have and how those qualities are valuable in the workforce and the benefits of this new Tutor Doctor Loan program.
"Most athletes are aware of the blessings they have been given and have a desire to make a positive difference in other people's lives," Taylor said. "They're also very driven and like to be active. Most would not be happy sitting in a cubicle. They have all the skills of a good business owner, but because of a lack of history, they can't secure a loan. Through Athlete2Entrepreneur, graduating college athletes would receive an interest-free loan, along with one-on-one coaching and mentoring sessions. This is a huge opportunity for them."
"As thousands of graduating college athletes anxiously anticipate what will happen after graduation, most don't realize their competitive nature, team player mindset and ambition make them ideal business owners," said Tutor Doctor President Frank Milner. "Unfortunately, even those athletes who understand their transferable skills and want to open a business are hard-pressed to secure a traditional business loan. The Athlete2Entrepreneur program addresses both issues."
"Landing a job right out of college is extremely difficult, but finding yourself in a gratifying position that you are truly passionate about is even tougher," Milner added. "We are excited to be partnering with Lina to provide business opportunities for these young, passionate and driven graduates."
Tutor Doctor's proven in-home tutoring business model has created over 450 franchise territories employing more than 17,000 tutors in 15 countries and has plans to add 100 new locations worldwide in 2016.
Global market for private tutoring is forecast to reach $196.3 billion by 20202. Seven out of 10 consultations close with an average enrollment value of $2,346 which makes Tutor Doctor one of the most successful and fastest-growing education franchises on the market.
If you would like to offer in-home, one-on-one educational tutoring services and make a difference in the lives of children and help them succeed, consider starting a Tutor Doctor franchise. To learn more about the costs involved and benefits associated with owing a Tutor Doctor, tap here.
1 National Center for Education Statistics
2 Global Industry Analysts, Inc.