Lenny's Grill & Subs Franchise Helping Hunger Campaign
|
September 6, 2016
Lenny's Grill & Subs, a national food franchise, is teaming up with No Kid Hungry for the second year in a row to combat childhood hunger by providing 300,000 meals to children through customer donations.
"We recognize the needs of those in our communities who don't have enough nutritious food. No child should wonder if he or she will get a meal every day," said Kevin Martin, president and CEO for Lenny's. "We're proud to team up with No Kid Hungry and excited to create this opportunity for both our customers and franchisees to help those in need."
Statistics about Childhood Hunger[i]:
1 in 5 kids will face hunger this year
3 million kids go hungry in the U.S.
20% or more of the child population in 38 states and D.C. lived in food-insecure households in 2013
In 2013, the top 5 states with the highest rate of food-insecure children under 18 were: DC, MS, AR, NM and GA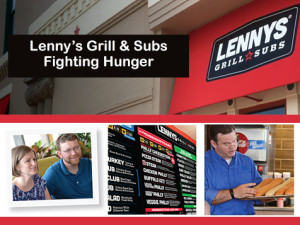 Now through October 2nd, Lenny's will attempt to raise $30,000. Last year, the franchise surpassed its $25,000 goal. This year, the system is asking each Lenny's location to raise $10 a day over the course of 35 days, to exceed the $30,000 goal. As a thank you for donations, Lenny's customers will receive a $2 off coupon for any club sandwich on their next visit.
"It's heartwarming to see the restaurant industry come together for our cause, and we are thrilled to have an iconic brand like Lenny's Grill and Subs, who cares about giving back to their community, join us once again this year," said Diana Hovey, Senior Director, Dine Out for No Kid Hungry.
Facts about Lenny's
Lenny's Grill & Subs first opened in Bartlett, Tennessee and has been franchising for 15 years. Today, 105 locations exist in Southern U.S. Lenny's Grill & Subs is currently looking for franchise owners for new locations in the following states: AL, AR, FL, GA, KY, LA, MI, MS, NE, NC, OK, TN and TX.
Lenny's Grill & Subs requires approximately 10-15 employees to operate and a total investment of $250,000 – $375,000 to open.
Tap here to learn what kind of support franchise owners receive from the corporate office and to learn more about the Lenny's opportunity.
[i] *United States Department of Agriculture (USDA)