Announcements from Wayback Burgers
|
October 11, 2016
Wayback Burgers is pleased to announce Scott Milas, former Director of Franchise Development, has been promoted to Vice President of Franchise Development. Milas has been with Wayback Burgers since 2012 and in his new role will oversee the franchise recruitment process in the United States. "I am extremely excited about my new role," says Milas. "The success of Wayback Burgers is attributed to a great culture and management team. I am very excited to continue working with candidates and at the same time be part of the management team".
To fill the Director of Franchise Development position, Wayback Burgers added Dan DeTuccio to the team. Dan has extensive experience in sales and marketing. "I am thrilled about the opportunity to be a part of an aggressively growing company," exclaims DeTuccio. "The team at Wayback Burgers is top-notch, and I am looking forward to being a valuable part of that team."
About Wayback Burgers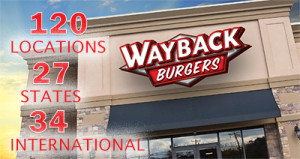 Wayback Burgers is a fast casual, better burger restaurant celebrating its 25th year in business. Currently, Wayback Burgers has 120 stores operating in 28 states and an additional 400 stores in development world-wide.
To learn more about the Wayback Burgers opportunity, tap here.