|

Jennifer Mayer, of Merritt Island, FL, is the new, proud owner of a Scout & Molly's Boutique. Originally from Alabama, Mayer has lived in Florida for the past 47 years and wasn't initially looking to buy a business.

Read her conversation with Franchise Solutions about how she came to find her future as a boutique owner which will help pave the way for retirement for both she and her husband.

How did you find out about the Scout & Molly's Boutique?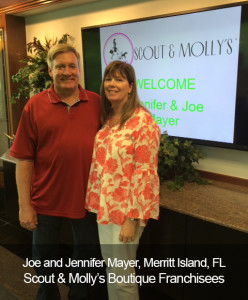 I wasn't even looking for anything to do, but one night on Facebook, I saw an ad for the top 100 franchises. Out of curiosity, I started to look through the list and there were three companies I saved on Franchise Solutions to go back and look at later. I didn't really give it any thought as to whether I would actually pursue buying a franchise. I was just dreaming.

I threw out the idea to my husband and he said I should do some research. I was surprised that he said that, so I went forward and did quite a bit of research, looking into two of the franchises I thought looked appealing and of course Scout & Molly's was one of those franchises.

I don't believe in coincidences, I have been praying for a door to open that would lead me in the right direction for my future, and this just happened to be put in my path, and with some research and prayer this has been an amazing journey.

Why did you choose to invest in a Scout & Molly's?

I would like to think that I have a flare for fashion; my husband and friends say I do.  I like to help others feel good about themselves inside and out.  So owning a Scout & Molly's will be right up my alley.

I chose Scout & Molly's over other retail franchises because it seemed to have a better infrastructure and business plan.

What were you doing before owning a Scout & Molly's?

I used to own a day spa and was a licensed massage therapist, licensed esthetician and a nail technician.

My husband owns a civil engineering firm and I fill in for the bookkeeper and secretaries when needed and also do the billing on occasion. I used to work for him full time as the bookkeeper.

How was working with the Scout & Molly's franchise team?

After reaching out to Scout & Molly's and talking with my Development Manager, Trevor Steenholdt, I thought "I can do this." Trevor was very informative and walked me through the process and answered all my questions and my husband's too.  Trevor told me about the Discovery Day and what would take place that day and how after that day we would know whether or not Scout & Molly's would be the right fit for us. I told my husband about Discovery Day and he said "Let's go."   Trevor was right, after meeting Lisa, Brian and Doug that day we knew this was going to be something that we were going to do. We were very impressed with the overall organization and business plan that was presented to us that day.

Where are you hoping to open your Scout & Molly's Boutique?

I would like to open my Scout & Molly's in the Viera area; it is about 30 minutes from Merritt Island.

When will you officially open your new shop?

I would like to open in September or October, but it will depend on how long it takes me to get a lease.

We are very excited about beginning this journey and being a new part of the Scout & Molly's team.

If you or someone you know might be interested in opening your own Scout & Molly's Boutique, learn more about the cost and benefits here.

Tags: Scout & Molly's


Categorised in: franchise for sale