Apricot Lane Boutique Hires Chris Lanning
|
September 10, 2018
Leading women's clothing franchise, Apricot Lane Boutique, welcomes Chris Lanning, veteran in the retail industry, as the President of Retail.
Chris Lanning's Background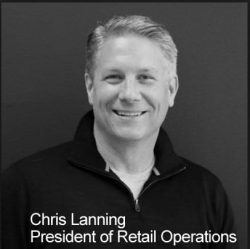 With 30 years retail experience in senior executive roles, Lanning has worked with several well-known national brands including GAP Inc., DWS Inc., Victoria's Secret and Bath & Body Works. In addition, Lanning ran his own retail consulting business for eight years.
In his new role, Lanning will help Apricot Lane franchise owners maximize their sales through merchandising, customer presentation and increasing the overall customer experience.
"I've been fortunate to work with a number of global brands, but there was something special about Apricot Lane's approach to women's retail that made me want to be a part of it," Lanning said. "In today's multi-channel era, price is not the sole factor in driving purchase intent. Providing unique, on-brand customer experiences – connecting with people – is more important than ever before. Apricot Lane offers a special and engaging in-store experience. I'm looking forward to working with franchisees on creative ways to heighten that experience; all designed to optimize sustainable profitable sales and build brand awareness."
Lanning learned about Apricot Lane through a non-profit organization called 3strands which the Apricot Lane founder, Ken Petersen, formed in 2014 to help end human trafficking. Lanning was impressed by the franchise's commitment to making the world a better place and joined the team to put his skills to good use as well.
About Apricot Lane
Franchising since 2004, Apricot Lane currently has 75+ locations nationwide and is a unique clothing boutique where store owners are encouraged to choose the inventory with styles which inspire them making each boutique different than the next. Headquartered in Vacaville, CA, the individual retail stores are generally about 2,200 square feet in size. Apricot Lane is projected to continue growing at a rate of 20-30 stores per year. The total investment for an Apricot Lane location ranges from $135,850 to $341,800.
If you or someone you know has a desire to learn more about owning a leading woman's retail clothing boutique, click here and inquire today.