Top Franchises You Can Buy for Under $50,000
|
September 28, 2018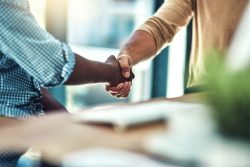 If you're thinking of buying a franchise, the best time is now. More and more franchises are currently looking to expand their footing both nationally and globally. And the best part is that you don't have to be uber-wealthy to become an owner of these franchises. Take a look at 10 budget-friendly franchises you can buy or open for less than $50,000 in 2018.
(1) Liberty Tax Service
More than half of all taxpayers use a tax professional, making tax preparation a reliable small business opportunity. Liberty Tax has low start-up costs and potential for a high return on your investment. A well-established brand, Liberty Tax has been listed on the Entrepreneur Magazine Top 500 franchise list since 1998!
Currently, there are more than 4,000 Liberty Tax Service offices operating in the United States and Canada and they are backed by solid team with a vision for the future.
(2) Fresh Coat
Founded in 2005 and based in Cincinnati, Fresh Coat is a premier interior and exterior painting franchise. It boasts of franchises in over 100 major US cities and has gained a reputation for hiring highly-vetted, fully-insured and bonded painters across the nation. No wonder Fresh Coat is one of the most sought-after, budget-friendly franchises in America.
The franchise has gained incredible traction with both residential and commercial clients because they offer free, accurate estimates and only use superior Sherwin-Williams eco-friendly paints. No matter how you look at it, Fresh Coat is a worthy investment. What's even better is that franchise owners have the benefit of working from home and don't have to deal with large overheads. The franchise offers full training and top-notch marketing, as well as 24/7 support. And for about $45,000, you can buy a Fresh Coat franchise.
(3) AmeriSpec Home Inspection Services
AmeriSpec is one of the pioneer franchises in the home inspection service market. The company itself was established three decades ago and has headquarters in La Verne, California. With 180 (and counting) independently-owned franchises throughout North America, AmeriSpec offers both pre-sale and post-sale inspection services for property buyers.
When you buy an Amerispec Home Inspection Service franchise, you will receive full training and operational support. To top it off, AmeriSpec provides franchise owners with dynamic marketing to property specialists, realtors and homeowners in their areas of service. The cost of buying an AmeriSpec Home Inspection Service franchise is $44,300.
(4) Oxymagic Carpet Cleaning
With $32,499 required to start, Oxymagic is one of the more affordable franchises out there. And the company prides itself on the safe, environmentally-friendly product that does the job and does the job well when it comes to cleaning carpets, upholstery, tile, countertops, wood floors etc. Secure a protected market of 400,000 people to grow your network and you'll reap the rewards of repeat business.
(4) Computer Troubleshooters
Computer Troubleshooters is a global leader in IT consulting for small business. Founded in 1999, the technology consultancy franchise has more than 344 locations in Europe, North America, Australia, Asia, and South Africa. The start-up cost of a Computer Troubleshooters franchise is $17,200.
(5) CruiseOne
If you are looking to get your feet wet in the cruise travel agency, look no further than CruiseOne. It has over 1000 franchises across the globe. The start-up cost of a CruiseOne franchise is as low as $3,200.
(6) Club Z! Tutoring
Got an interest in helping children by owning a tutoring franchise? Club Z! has over two decades of experience. With over 400 active franchises across the United States and Canada and a robust online tutoring platform you too can join the education industry. Club Z! franchises are available for $40,000.
(7) The Glass Doctor
If you fancy a low-cost franchise business in the window and glass restoration and replacement niche, then The Glass Doctor is your best bet. The start-up costs are $50,000.
(8) Garage Experts
With the popularity of home improvement and do it yourself shows, the demand for home organization products is on the rise. If you meet the requirements, you can buy a Garage Experts franchise for as little as $30,000.
(9) Game Kastle
The new game in town, Game Kastle is a fun family-friendly franchise in the hobby games and retail industry. It offers exciting franchising opportunities, including full training, on-site help, and continued marketing, billing and sales support. The start-up cost is $50,000.
(10) MaidPro
MaidPro is all the rage right now in the residential cleaning industry. Founded in the early 1990s in Boston, MaidPro is seeking new franchise units in the US and Canada. Their startup cost is the lowest among peers at $45,900.
There you have it – The crème de la crème of franchises you can buy for under $50,000. Tap here and view more opportunities for under $50,000.