Is a Home-Based Business for You?
|
March 25, 2019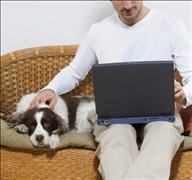 A home-based business is the type of business that you can run, right out of your home. There are several advantages for these types of business opportunities, like being able to deduct your home office expenses and office space off your tax returns. You also avoid having to hire employees and pay employee benefits. Several work at home opportunities do not require extensive inventories, which means you also keep overhead costs low.

Home-based businesses are in many different industries. Some examples of industries fit for working at home are vending franchises, which include food vending machines, ATMs and DVD rental kiosks. There other types of opportunities like payroll processing services, administrative support, and even travel franchises and hospitality services all from your home office.

You can look at franchises that allow you work from your home full-time or part-time. For instance, some businesses will allow you to do administrative work from home, but the rest of the time, you will be out in the field traveling from one location to another.
Several Home Based Business Opportunities Let You Keep Your Current Job

It is not surprising that most people have the desire to own and operate their own business. Small amounts of these people, though, actually take the initiative and create a plan of action. Talking about starting a business and actually doing it are two completely different things. Many people have the misconception which they must quit their current job to start a new venture. However, this is not the case. Many opportunities allow you to keep your current job.
A Work from Home Business Is Not for Everyone

Everyone would like the opportunity to have his or her own work from home business. However, not everyone would be successful with this type of opportunity. Some people can find it challenging to focus on working their business while at home. For these types of people, it does not mean they cannot own their own business. They are better suited to opening a business that requires them to leave home to go to work.
Create a Schedule for Your Work from Home Business

As long as you are able to manage your time well and concentrate on work without any distractions, a work from home business may be ideal. You can take breaks, just as if you would at a regular job. However, you should not allow yourself to get distracted with household chores and tasks. You need to be diligent and make sure you set aside blocks of time for operating your business. You should also not allow yourself to deviate from your schedule.
When you have a work from home business, you should create a schedule for your working hours. You should set realistic working hours that fit with your type of business. During your working hours, you should remove yourself from all other types of distractions to be able to focus on your business. For instance, you can work while you kids are away at school so it is quiet.
Can I Convert a Home-Based Business Into a Regular Business?
As your home-based business grows, you may find that you outgrow your home office. It is possible to convert your home-based business into a regular business with a physical location. However, you should be aware that you would have additional business expenses such as rent, utilities and insurance. As long as your business is earning enough to support the added expenses, then there is no reason why you cannot move your business to a new location.