Franchise Advantages and Disadvantages
|
February 16, 2021
Owning a franchise is a dream career for many people, providing them with comfortable incomes and work they enjoy. But it's not right for everyone. So weigh franchise advantages and disadvantages to determine whether the industry is the right fit for your entrepreneurial aspirations. Here are factors to consider before taking the plunge.
Franchise Advantages
• Proven system: Franchises present entrepreneurs with a proven system of success. All the hard work and trial and error have already been done by the franchisor.  It's a much easier—and less risky—way to own a business than starting from scratch.
• Support: Whether you've got an S.O.S. that requires immediate attention or you're scheduled for training on a new device, the franchisor is on call with an expert to get you through the challenge.
• Experience isn't necessary: Sure, some experience in your franchise's field – whether it's home improvement, teaching, culinary arts or a completely different type of business – might be helpful, but it's not mission-critical. When you weigh franchise advantages and disadvantages, this is a biggie: You won't need to go back to school or work in an apprenticeship for years before you start making money. Franchisors always jump-start you with the precise training you need.
• Brand recognition: Known brands mean power. Name recognition is always going to send customers' feet in the door, generate business through your website, bring calls for products and services to you via telephone, and entice people to pick up the phone when you call. There are huge benefits to joining a high-profile franchise that's respected for its quality of products or services or both.
• Collaboration: Collaboration, especially in this difficult pandemic period, adds another layer of assistance to franchise owners. They can call or email one another to hone best practices for overcoming any obstacle.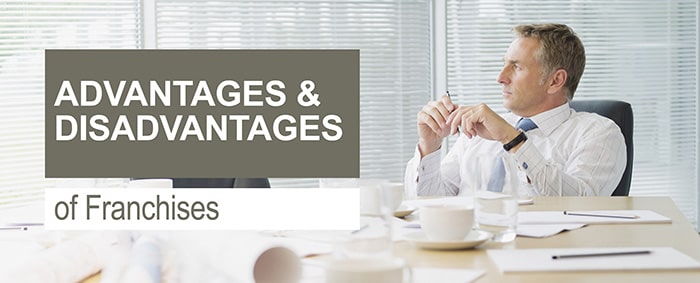 Franchise Disadvantages
• Limited creative control: This isn't a deal-breaker for most entrepreneurs, but it's something to think about. You are investing in a proven system, and if you go rogue, you might not achieve the results you want.
• Territory restrictions: You might not be able to expand your business if nearby territories are unavailable; this is more likely to happen with long-established brands. In your due diligence of examining franchise advantages and disadvantages, you should ask about opportunities for adding units to your business portfolio. Franchise Consultants, as well as franchisors, will be able to advise you.
• Franchise fee: Franchises charge an upfront fee to buy-in. Although this can be a considerable sum, franchisees do receive major benefits through initial training and expert assistance that may bring down costs over going it alone in securing equipment, inventory and an optimum site for a start-up. (The fee is sometimes financed with a low-interest Small Business Administration loan; some people opt to tap their retirement accounts through the Rollover Business Startup (ROBS) program, which avoids penalties and interest on early withdrawals when they establish a business.)
• Royalties: Yes, this profit-sharing is an ongoing expense. But franchisors do use it toward their costs for providing constant support, future training, and the marketing that secures new and repeat clients.
• Restrictions on suppliers: Suppliers are limited to those mandated by the franchisor. Some franchisees view this as restrictive because they'd like to try a new vendor or contract with one they're already familiar with. Franchisors respond by saying that by purchasing in quantity for all of their franchisees, they reduce costs on supplies and keep quality consistent at all franchise locations.
After weighing franchise advantages and disadvantages carefully, you might decide that franchising is for you…but you still need to do your homework. Remember, what's ideal for one person may not be for another. All people are different and so are all franchise opportunities. Carefully investigate each business sector and brand that interests you. Most importantly, before investing in any franchise business, make sure it suits your goals, budget and lifestyle.