Bloomin' Blinds Franchise is Booming
|
March 9, 2021
Brett Bratton, of Tucson, AZ, is one of Bloomin' Blinds' newest members to join the franchise. Once a table games dealer at a casino, Bratton got tired of working nights and holidays and found the line of work lacked a sense of purpose. "I always wanted to run my own business but never really had the means," says Bratton. After selling his house to work at the new casino, and having the time to think about his next career move during the lockdown, Bratton decided to look at franchises.
"I inquired to a lot of franchises. But, the only one that stuck out for me was Bloomin' Blinds. It met all my criteria. I wanted a hands-on business, to be out and about and work Monday through Friday, and I didn't want to be in an office."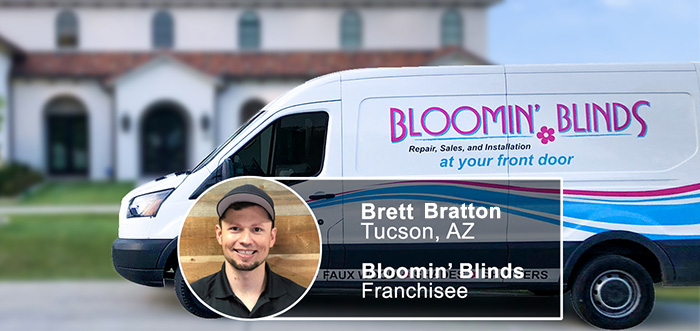 Bloomin' Blinds Growth in 2020
Since the unexpected pandemic hit last year, the home services industry is experiencing tremendous growth and continues to boom. In particular, Bloomin' Blinds has seen a 47% increase in year-over-year sales in 2020.
The low-cost opportunity added 12 new franchise agreements, three of which came from Franchise.com Network leads. Bratton inquired to Bloomin' Blinds and many other concepts on the Franchise Solutions website on April 25, 2020 and started his new business in September. This mobile franchise continues to persevere and be the go-to experts for window covering installation and repair in homes across the country.
Benefits of Owning a Bloomin' Blinds
The things Bratton enjoys about being a franchise owner are working with his hands, setting his own schedule and how each day is different. To start, Bloomin' Blinds sets their franchise owners up for growth with:
Strong franchise model
Low start-up costs
Family-owned business
Proven concept
Powerful marketing tools
Advanced training
The Investment
Bratton advises, "One thing I would tell prospective owners is you have to have the money, the time, the drive and the willingness to learn." You can buy this window treatment franchise for a total investment range of $40,000-$75,000. Prospective owners are asked to meet a $50,000 minimum financial cash requirement.
Chief Executive Officer, Kelsey Stuart said "With over 450 open territories, we'd love to expand into Salt Lake City, Kansas City, Chicago, Boise, Phoenix and Atlanta." So for those of you who are interested in owning a home-services business where you can set your own schedule, contact Bloomin' Blinds today.
About Bloomin' Blinds
Founded in 2001, Bloomin' Blinds is a family-owned and operated franchise that offers a home-based opportunity that is effective and simple to run. The services provide customers with window covering consultation, installation and repair. And, today, Bloomin' Blinds is the fastest growing window covering franchise and the largest company to offer blind repair in the United States.