The Future is Bright for Lapels Dry Cleaning Franchise
|
July 2, 2021
Lapels Dry Cleaning franchise is a leader in the dry cleaning industry. And, it is creating a buzz in the industry since acquiring five companies, making it the largest dry cleaner on the planet.  Lapels acquired Martinizing Dry Cleaning, 1-800-DryClean, Pressed4time, Dry Cleaning Station and Bizziebox. Lapels and its equity partner, Greybull Stewardship, L.P. ("Greybull") merged into Clean Franchise Brands, LLC ("Clean Franchise Brands"). With 500+ stores in 40 states and nine countries, Clean Franchise Brands is now the largest dry cleaning company in the world.
Kevin Dubois, CEO and President of Clean Franchise Brands says, "The merger gives us the collective purchasing power to significantly reduce operational costs for our franchises in the future as well as leverage our size and dollars to give marketing support to our franchise owners to build their business on autopilot."
"Over the years, we've established Lapels as a unique franchise offering with a focus on environmentally friendly, non-toxic cleaning practices, as well as stellar customer service. That package has earned us a place in the Franchise 500 year in and year out," said Dubois. "With this acquisition, we can provide a wide range of offerings to prospects all over the world. We're excited about the future of all our new brands. The sky is truly the limit."
Dry Cleaning Industry and Goals
The dry cleaning industry is a $9 billion industry and there are about 8,000 dry cleaners across the country. Although the forecast over the next year or so projects only a slight uptick, Dubois states they predict a 30 percent uptick over the next four years.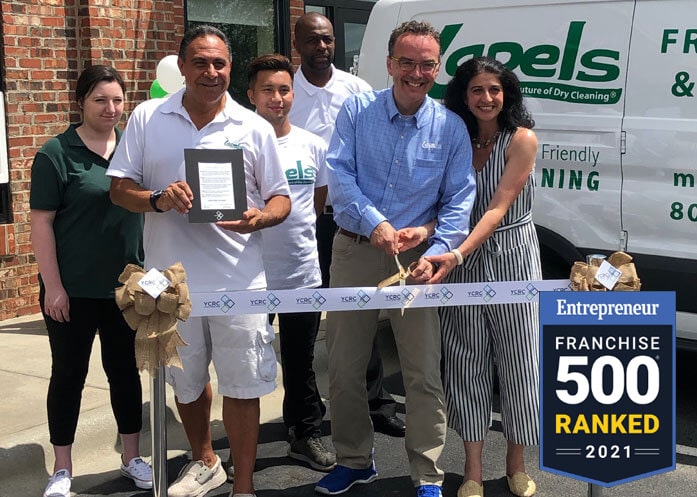 "Technology and the ever-growing laundry part of the business through FREE Home Delivery will propel our growth into the future. During COVID-19, sales exploded 300 percent in wash and fold." Dubois said.
Dubois also shared the company's plans. "We have two parallel paths. One is supporting our franchisees to leverage the size and dollars in the system with competitive advantages. Those include a new website, app technology, and SEO on the web to drive new business in conjunction with the national partnerships with companies like Target and Airbnb."
Lapels is working with National Property Managers and retailers to continuously redefine what "The Future of Dry Cleaning" will be. These partnerships will help push business development and in turn, make it easier for franchisees and increase their volume.
The second path Clean Franchise Brands will focus on is accelerating franchise development. Dubois states, "With the recent acquisition we'll have more presence throughout the country, and be able to create more opportunities and valuable partnerships."
Benefits of Owning a Lapels Dry Cleaning Franchise
Recession-resilient
Proven and nationally recognized brand
Environmentally-friendly
Advertising & Marketing Plan that functions on Auto-Pilot to drive new business
Sharing of best practices from a pool of hundreds of national franchisees
Low cost of goods
Multiple revenue streams
A large network that gives you purchasing power
Hands-on training and ongoing support
Multiple business model options
Cost of a Lapels Dry Cleaning Franchise
Lapels Dry Cleaning has a franchise fee of $25,000 to $50,000 for a 10-year renewable agreement. To buy a franchise with Lapels Dry Cleaning, you'll need to have at least $100,000 in liquid capital and a minimum net worth of $350,000.
The beautiful thing about the Lapels opportunity is you can enter at a low price point and there are multiple areas still available for development.
Additionally, you don't have to be a big investor and be boxed into one business model. There are several choices. You can even be an absentee owner. At the time we spoke to Dubois he said "coincidentally, we just had a meeting with our two highest volume owners and they are both absentee owners."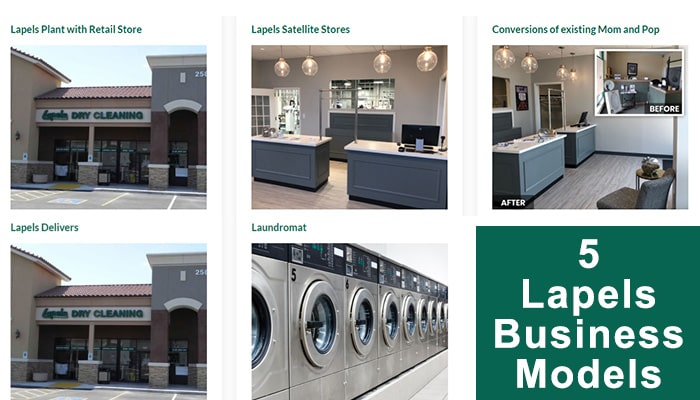 Lapels Dry Cleaning has many different business models to choose from. Here are five options:
1. Lapels plant with a retail store
Franchise Fee $50,000
Total Investment $391,031 – $710,122
2. Lapels satellite store
Franchise Fee $25,000
Total Investment $91,502 – $206,212
3. Convert a mom and pop dry cleaning business
Conversions can range from $30,000 to $250,000 depending on the amount of work necessary.
4. Lapels delivery service
Franchise Fee $25,000
Total Investment $40,050 – $68,200
Franchise Fee $25,000,
5. Lapels Laundromat
Franchise Fee $30,000
Total Investment $320,884 – $592,210
Ideal Candidates
A typical Lapels franchise owner is an entrepreneur by nature. He or she is someone who has worked in the corporate world successfully and is ready to break out on their own and be their own boss. "A lot of franchisees are engineers and architects, people who are analytical professionals," said Dubois.
Dry cleaning is not a fad, making it recession-proof. and this franchise offers a recurring revenue model with its repeat customers. Once a person finds a location that is convenient and provides good service, they are a customer for years.
"Dry cleaning is not a sexy concept. No one grows up saying they want to be a dry cleaner when they're older. But it will always be around," says Dubois. With that said, customers look for a convenient place to take their dry cleaning. So, in theory, every zip code could have a Lapels franchise which means there's lots of room for growth.
Join the Clean Franchise Brands franchise family today. Choose which business model is best for you and build your own dry cleaning business with Lapels.