Join Franchise Solutions in Houston for the 10th Annual Franchise Expo South
|
January 26, 2016

Franchise Solutions, the franchising industry's foremost online lead portal, will be among the exhibiting companies at the 10th Annual Franchise Expo South (FES), at the NRG Center, in Houston, TX on February 11-13, 2016.
Sponsored by the International Franchise Association (IFA), the FES is the South's premier franchising event, showcasing franchise-related companies and hundreds of leading franchise concepts from various industries. The event attracts thousands of aspiring franchisees from the Southeastern United States, the Caribbean and Latin America; and provides prospects with the chance to meet face-to-face with representatives from well-known franchise organizations.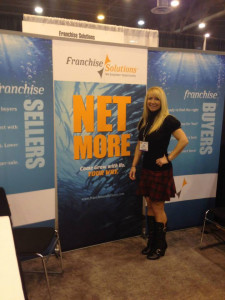 "You get can a lot of information in a very short period of time here," says Gary Rockwell VP of Sales, Minuteman Press International Inc.
For franchisors, exhibiting at the FES is a vital lead generation tool. Having a presence at the event helps franchisors build brand awareness and connect with candidates who are actively researching franchise opportunities. The FES offers ample opportunity for cultivating relationships with prospects and provides everyone in attendance with numerous networking opportunities.
In addition to showcasing over 200 exhibitors, including the top franchise systems and franchise-related companies, the FES also features several educational seminars. Attendees can take advantage of sessions led by experts on buying a franchise, franchising your business, expanding your franchise and financing your business.
Come Meet Us at the FES
Come meet the Franchise Solutions' sales team at the FES. We'll be at Booth #546. If you're a current client, we'd love to meet you in person and help you to further reach your development goals. If you're new to Franchise Solutions, we can show you how our services can fit your needs and budget.