How to Start a Business with No Money
|
August 15, 2018
5 Tips to Start a Business with No Money
It takes money to make money. That's the stark reality of making a foray into the franchise ecosystem. You need at least some savings for the franchise fee, and a little working capital to see your franchise through its formative months. It can feel challenging to think of how to start a business with no money.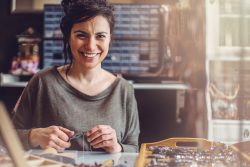 If you are like most Americans, the best way to raise funds to finance your low-cost franchise purchase is to start a small business. The quagmire is that you don't have startup capital. Which begs the question: how can one start a business with zero or little savings?
The upside is that others have done it successfully, and you can do it too. Yes, you can start a business with no money! Here's a checklist on how to do so.
1) Don't Quit Your Current Job Yet
If you are looking to swap a full-time job for business ownership, you might want to hold off the idea of quitting your job for a little while. Remember you still need a steady stream of income to sustain you until your business takes off. By holding onto your present job, you will be more financially secure. Of course, that means you will have to put in longer hours and work extra hard, but it's all worth it.
2) Spend More Time Working on Your Concept
Not many business ideas can work without sufficient starting capital. That's why you need to spend some time brainstorming and sifting through possible business opportunities. Don't be afraid to throw away ideas that sound off or unattainable.
Is your business concept viable? Is it unique? If yes, will it generate value for your target audience? Getting answers to these questions will help you figure out if your business idea will work or not.
Here are some business ideas that have proven to work with limited or no budget:
Start a Craft Business: Don't underestimate the power of making "something." You can make jewelry, handcrafts, birdhouses, graphic designs … whatever you're good at. You will probably need to shell out a few bucks for supplies, but these products often fetch many times over the initial cost. And the best part is that there are myriads of places you can sell these items, including flea markets, Etsy, Bonanza, eBay, Abe's Market, and so on.
Resell Products: You can start off by purging items you no longer find useful. This way, you can raise some money to buy items you can resell on Amazon, eBay or through drop-shipping.
Sell Your Services: You can sell your top skills on marketplaces like Craiglist, Elance, Fiverr, Skillshare, and TaskRabbit, just to mention a few.
3) Stay On Top of Your Market Needs
Do a market analysis to figure out how you can stay ahead of the competition. Oftentimes that includes checking out market trends and identifying challenges that your venture might confront in the near future. The next sensible step is to determine how to address these challenges, face off competition, and stay profitable.
4) Network
It is important to surround yourself with people who can help in one way or the other. Attend business seminars, talks, and even trade shows where you can find potential investors.
5) Get Feedback
If you are planning to get into business without money, it actually helps to get a second opinion from people who are familiar with the market and associated challenges.
Starting a business with no money is no picnic. With this handy checklist, you can power through the whole process and round up enough money to buy your dream franchise.