Top 5 Reasons to Buy a Franchise
|
November 13, 2018
Before we get into the top 5 reasons to buy a franchise, lets take a look at the life cycle of a career. Do you find yourself in one of the following stages? It's interesting to see the various paths people take.
The bright-eyed graduate: Entering the world of employment
The professionally growing employee: Developing skills and maybe burning the midnight oil
The relocated employee: Trying something new and in a different environment
The downsized, unemployed or employee on disability: Looking for a new position as a result of a layoff,  termination or injury
The veteran executive: Exercising leadership skills and moving up the ranks
The relaxed retiree: Making time to pick up old and new hobbies, perhaps enjoying family and friends or finding a dream job which they never pursued
No matter what stage of life you find yourself in, opening a franchise can be a rewarding experience. The sales consultants at Franchise Solutions have weighed in with their top five reasons to buy a franchise. In addition, they've made suggestions of businesses you can explore.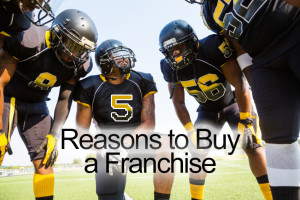 1. You can learn from others' mistakes.
Most franchise systems have been honed, refined and vetted before they are offered to others. This can save a great deal of time, heartache and money. As opposed to someone starting a new business which has never been replicated before. For example, JEI Learning Center was started in 1977 by Sung Hoon Park from South Korea. Park was an educator and today his method of a self-paced, individualized program is applied in more than 500 locations worldwide.
2. There is strength in numbers.
Most franchise systems foster a sense community among their owners. These networks share the best practices to improve the group's performance. This support system is a valuable asset to new owners learning the ropes of any business.  Meineke Car Care Centers has nearly 1,000 locations worldwide and is one of the nation's top auto repair franchise systems. With 45 years' experience, Meineke passes on the knowledge and best repairs practices to become a successful Meineke owner.
3. Purchasing power equals reduced rates.
To piggyback on the previous reason, when a large group combines orders to purchase products say, for inventory, companies can offer discounted pricing. The larger the franchise system, the larger the orders, the bigger the savings. Expedia CruiseShipCenters, for instance, is North America's largest retail travel agency franchise and a leading seller of cruise travel. The combined buying power of the franchise network results in the ability to offer travelers a wide range of products cheaper than an independent agent.
4. You benefit from brand recognition.
Many franchises have spent time and money on marketing and advertising campaigns to strengthen and build brand awareness. This includes promoting the company's name, logo and slogans. And, they've established a good reputation for offering excellent products and/or services. The better the brand awareness, the more customers are attracted to their company. Ace Hardware is the #1 brand in hardware which lends instant credibility to customers with a global brand.
5. Franchises offer on-going training and support.
When you purchase a franchise, usually you don't need to have experience in that particular industry.  Because franchises include intensive training which is often held at their corporate headquarters. Take for example how Minuteman Press supports its franchisees. They provide a comprehensive two week training program that covers all aspects of owning and operating a successful center. As far as on-going support, they host local meetings, an international convention, and create marketing campaigns, internet advertising programs and a monthly magazine. Their unmatched local support is sustained through 28 regional support offices located throughout the world. And each office is staffed with a Vice President and field representatives to assist franchise owners.
Don't see a franchise in our top 5 reasons to buy a franchise list you'd like to consider owning? Find more franchises in the Franchise Solutions' Top 10 most viewed franchises here.  You can also receive free franchise information on the opportunities that interest you most.