What is the Best Franchise to Start in 2021
|
January 26, 2021
If you are looking to start a business in 2021, you may want to consider entering the franchise sector. This avenue appears to be one of the reigning platforms where you have the potential to start and ramp up a profitable business. Despite the sad reality that the coronavirus pandemic has dealt a huge blow on the economy, franchises are still thriving worldwide. Particularly, franchising offers a convenient and proven business model for business owners. The fact that franchise brands continue to grow despite pandemic may suggest that the franchise sector is a good format within which to get into business for yourself in 2021.
In this article, we will list a few of the most profitable franchises you can start in 2021. It should, however, be noted that investing in a franchise business requires a lot of patience and work. It will take capital, training and time before you generate profits. But, whether you invest in the best low-cost franchise or the most expensive opportunity, you will increase your chance of success if you follow the system's operational plan.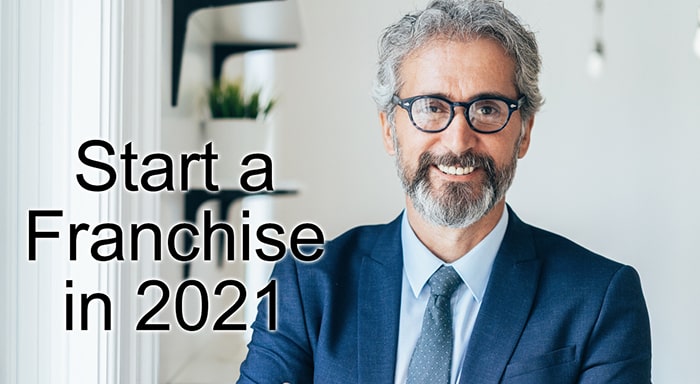 5 Best Franchises You Can Start In 2021
Franchise systems are still growing. To help you save time and resources, we have compiled the top five franchises you can start in 2021. These franchises are some of the most profitable franchises available today. Check them out and identify the brand you would love to join.
1. McDonald's
McDonald's currently ranks third on the Franchise 500 list. Since 1955, the food giant has continued to make giant strides in the franchise industry, reaching over 30,000 in total units. The cost of opening a McDonald's is in the $1.3 million range. The mega fast food brand continues to look for ways to improve its technological innovations to better its performance and service delivery. This means they will become faster and more efficient, increasing their order volume. This may be the time to leverage the McDonald's opportunity.
When you franchise with McDonald's, the brand assigns you a franchise representative who will help you through the process to ensure everything is smooth. The representative helps you strategize and ensure that you achieve your franchise goals.
2. KFC
You cannot talk about fried chicken without mentioning KFC. The colonel has made his way to the top of the food giants list. Like McDonald's, KFC is also a well-known brand in the franchise industry. The food giant services people both internationally and locally and has about 4,000 locations in the U.S alone. KFC has improved a lot both in the food and franchise market due to its innovations in the products, service delivery, and marketing strategies. For its franchise owners, KFC offers multi-unit incentives. This strategy opens non-traditional locations like campuses to expand the brand to a new target market. KFC has proven their passion for innovative technology and is always creating new ways to promote its brand. If you want a brand that drives innovation, KFC is for you.
3. Fleet Services International
If you have a passion for the automotive industry, explore Fleet Services International (FSI). The brand operates a national network of on-site fleet maintenance dealerships. It has over forty years of industry experience. After the food industry, the second largest industry on the list is the automotive aftermarket. The demand for organized maintenance is overwhelming. With just $50,000 and a total investment between $100,000 and $250,000, you can become a Fleet Services International dealer. The dealership comes with hands-on operational training, and every dealer is given an award-winning software package customized using the company's technology.
Establishing a new business may be frustrating when it comes to learning a new industry. It may take years to perfect their services and reach their market. With FSI, you can get operational training to help you with the required knowledge to start work and perform well. Also, you do not have to pay franchise fees or royalties, and you get to keep all the profits.
4. Sport Clips
The estimated worth of the Sport Clips franchise system is about $75 billion, and they report a steady annual growth of 8%. What's nice about owning a Sport Clips, is you have the flexibility of being an absentee owner; it does not require you to personally manage the business full-time. And, the business is recession resistant. Everyone who has hair needs to maintain it. In addition, the investment costs are low and the profits are high. The operations are easy and efficient, and the environment is viable for those interested in the hair care industry.
5. Tutor Doctor
Ranked as the number one in-home tutoring franchise worldwide by Entrepreneur magazine, Tutor Doctor is a known brand name when discussing the private tutoring industry. The brand is currently enjoying a fast-growing franchise expansion in the education industry. It has over 400 locations worldwide and has helped the lives of over 200,000 students boost their academic performance and achieve their goals. Private tutoring is the fastest growing sector in the education category. The industry is expected to exceed $260.7 billion by 2024.
Tutor Doctor offers a personalized approach to tutoring, which means it can work for kids of any age or skill level. As a result, parents and students turn to Tutor Doctor to help with their specific needs. As a franchise owner, you can enjoy multiple revenue streams, passive income and work from home.
Other franchises you can start in 2021 are:
We hope this post offers insights on the most profitable franchises you can leverage in 2021. This list has been screened by considering a couple of factors. But, to get the most out of any of the options listed, be sure to do your due diligence. Learn about what each opportunity has to offer you.
Remember to consider the pandemic and other factors that may impact your startup. You can research successful franchise business models to learn how they survive as well. If others in the franchise world can thrive despite odd circumstances, you can too!